BeerAdvocate Suburban Phila. Pub Crawl
4/9/05
I believe this was the 3rd annual crawl produced by the local BA members. Most of the thanks should be given to Rich Ruch and Rick Maybrick. They planned a wonderful day of beer and food that was nothing short of spectacular. It was the first time I participated and, I must say, it will not be my last! In addition to this, Friday night they sponsored a City Pub Crawl visiting downtown establishments and on Sunday a brunch crawl. Three days of beer!
Ted Briggs, brewer at Tun Tavern, decided he wanted to accompany me as my wife was stuck at a charity event and Gary Monterosso had fallen ill the day before. We were all to meet at Victory and then we could take a bus (for a moderate fee) to the other spots. A total of three brewpubs was on the agenda: Victory, General Lafayette, & Sly Fox-Royersford.
The day was perfect: bright, sunny & fairly warm. The 1 3/4 hour ride to Victory was uneventful and we were the first to arrive. We checked in with Rich and talked awhile until the others started to wander in. There was a serious list of beers on including three cask-conditioned selections. For $15, we were also going to get a buffet with pizza, jambalaya and salad......a great start to a long day of drinking! Included was the first pour, a free glass and $1 discount on each successive beer. Bill & Ron know the way to our hearts!!!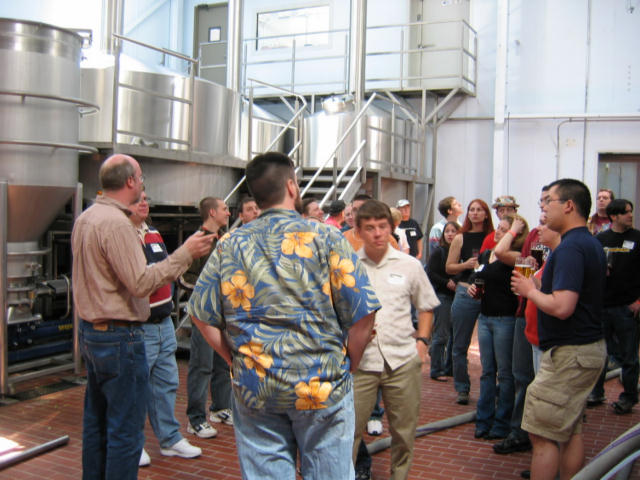 About 25-30 people showed up and started in drinking a couple of beers and having some food. Owner & brewer, Ron Barchet, gave us a tour of the new multi-million dollar brewing & packaging facility. A more beautiful system I have yet to see...a plumber's dream/nightmare!
Before long, it was time to load up the bus and move on to the next stop, General Lafayette in Lafayette Hill, a nice ride. General Lafayette has been an inn of one sort or another since 1732 and still has a lot of original appointments to it. It is a wonderful place to have a great meal, great beer and even spend the night in the Bed & Breakfast in the rear.
Owner/brewer Chris Leonard had brought out some of his vintage beers for sale and we happily obliged by laying out some good money for some great brews. To maximize the tasting range, we shared the bottles and thusly got to try almost all the offerings. Along with his usual extensive line of selections, we had a wonderful tasting experience here. Some of the beers we had were: The Grim Reaper, Raspberry Mead, Sunset Red, Pacific Pale, La Tete Fontaine, CC IPA, McGlynn's Ghost '03, Lafayette's Revenge '02, Imperial Stout '02, and Weizenheimer '04. Chris is another prolific brewer who makes a broad range of styles all excellently. Again, time flew by and we soon had to saddle 'em up and move on. But not before I got a growler of the Grim Reaper!
Sly Fox-Royersford is the second and newest location in the Giannopoulos empire. I had never been at this one before and I was amazed! Located in a small shopping center, it is so much larger than the Phoenixville locale. You could put the whole building in one dining room! The brewer, Brian O'Reilly, was there to greet us and gave a tour of the new production brewery that has been built here. A dream of his that finally came true! It is a lot of work for him, but he now has enough capacity to meet the distribution plans they have. Limited bottling will begin this year to even expand their product availability further. Look for them in the tri-state area by the end of the year. Brian is truly an exceptional brewer and deserving of more attention by beer lovers everywhere.
Sly Fox put out some finger foods for us in the game room and many began to shoot pool and play shuffleboard. A list of 14 beers was offered and everyone made the best use of the time we had left. Unfortunately, I had to drive home when we got back so I kept my sampling to a minimum. Brian started doing IPA projects last year where he made 9 IPAs(one for each year in business) each with one type of hop. This year, it will be 10! The first 2 are out now, Glacier IPA and Ahtanum IPA...outstanding! Look for the grand finale in December where Brian serves up all 10 at once.
Not being able to enjoy all the beers I wanted, I filled my growler with his Doppelbock for later consumption.
The trip back to Downingtown was fairly quiet and trouble-free. Next year, I will be staying in the area as that ride home was a long one after a full day.
Keep an eye out for next year's event and join us for a fun day!
Not a BeerAdvocate member? Check out beeradvocate.com and sign up. It doesn't cost anything though they would like to have a donation to keep up the website. It is the most complete beer forum on the Web.....reviews, event lists, regional forums, style info, just about everything you wanted to know about the world of beer.