Philly BA Crawl '07
3/31/07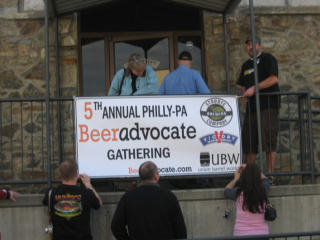 Once again the inimitable Mr Ruch and crew planned another outstanding day of beer, food and fun.
Although we had some last minute changes and the weather wasn't the best, we still got a nice group of avid beeradvocates who were happy just to be anywhere doing what they enjoy most...drinking beer!!!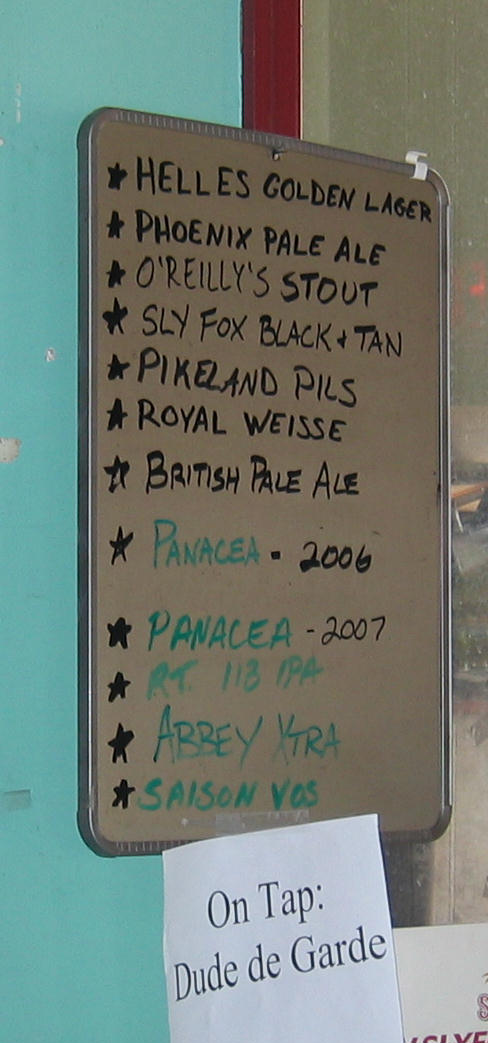 Originally, we were to drive to Reamstown and the new Union Barrel Works to enjoy his newly-opened brewpub, but as red tape would have it, the City did not issue its final approvals in time and Tom Rupp did not feel comfortable having a group in there without them. Rich got on the phone and the wonderful guys at Sly Fox quickly offered their hospitality at the Phoenixville location. Brian O'Reilly and the Giannopoulos' set up a small buffet and tapped some great beers for us: Panacea '06 & '07 and Dude de Garde were the specials along with the regular lineup. The previous evening they had held a special event for the release of the Dude de Garde with guest brewer, Scott Morrison, late of McKenzie Brewhouse, who was assisted by Mr. O'Reilly brewing his award winning biere de garde at the brewpub. Needless to say, everyone enjoyed the several hours spent in Phoenixville. We were also graced with Scotty's presence as well as that of the renowned writer and traveler, the irascible Mr. Curtin. A pleasure as always.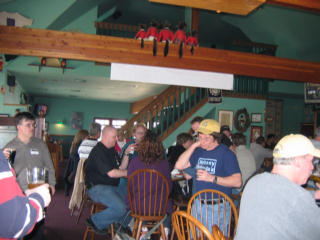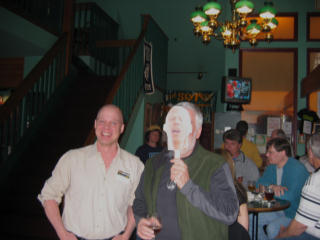 Before we knew it, it was time to return to the bus and make the trek to Stoudt's in Adamstown. We passed around some fine beers on the bus and kept the party going. The time passed quickly and suddenly we were debussing and heading for the appropriate facilities. Carol and Ed Stoudt greeted us and had us shown to a private party room where we had more beers and some of their excellent cuisine In addition, a tour of the new brewery was on tap for those who wished. We opted to sit and enjoy the beers, get our food ordered and buy up some of the limited supply of Ed's bread. After a bit of sustenance, we thought we might walk it off with a short stroll through Stoudtburg, the antique village that adjoins the brewpub. It had been a few years since we were there and some new buildings graced the landscape. For those who don't know, Adamstown is a famous antiquer's destination with dozens of shops and auction sites. If such is your bent, set your sights on this little corner of PA and be sure to stop at Stoudt's for your refreshments.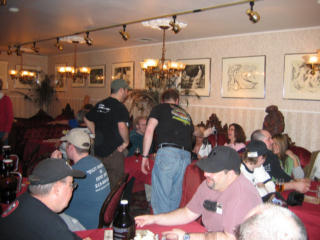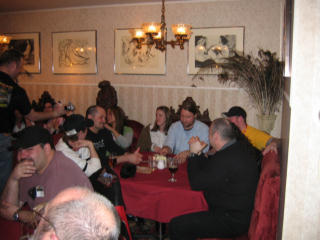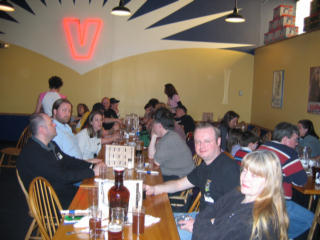 Back on the bus, we shared some of Union Barrel Work's brews which someone picked up in growlers: Kolsch, Honey Maibock and Honey Oatmeal Stout. Very good beers! We'll have to plan on getting out there. Once again, the ride back to Victory was quick and we found ourselves sitting in the back of the dining room ordering more beer and food. Even another tour for the first timers.
Well, all good things must come to an end as they say. Our day was most enjoyable seeing people we don't often see and going places where we haven't been able to visit in a while. I even mentioned that we should do one in the winter also.....light on the travel end, but with so many local establishments within a couple of miles, there is no need. Due consideration will be given.
Thank you Richard and associates. Looking forward to next year for sure!