New England Beer Fest Trip
Lincoln, NH
6/25/11

Invited by my friend Gary Monterosso to accompnay him to this fest, we jumped at the chance after not having traveled for the last year. We decided to make a trip of it and left on Thursday for the Saturday event. Our first leg was to reach Nashua, NH that night. Driving in torrential rains in NY and CT, we made a stop at Tulleycross Tavern in Manchester, CT where we enjoyed some good beers and food while taking a brief respite from the road. Continuing on, we ran out of the heavy rain for a while closer to Boston and arrived in Nashua at the Marriott. We settled in and headed for Martha's Exchange, a brewpub in downtown. We had been there about 8 years ago when my uncle lived in NH. Greg's beers are exquisite. He makes so many different styles and they are all memorable! The food is quite excellent also.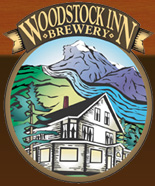 Morning came along with more precipitation and we headed north to Woodstock Inn to have lunch at the brewpub, Woodstock Station. I enjoyed a sampler of their beers and found them to be tasty. The large menu made choosing difficult as hungry as we were but we made it through and had a great meal.
The weather was not only wet, it was chilly as well. We did not come prepared for that so I bought a hoodie at WS to carry me through the weekend. Mary Lu and I walked around the small downtown stopping at several shops and picked up some items.
Only about another 20 miles to our final destination, Sugar Hill Inn in Sugar Hill, NH. GPS doesn't really know where that is though it would take you by the inn, but my phone's navigation app took us right there. Now here is a quaint place out in the country! Built in 1789, this bed and breakfast has both rooms and cottage suites. We occupied the Blue Room(shown above). The main house certainly shows its age though in a nice way. The floors are crooked planks and there are toetrips everywhere...we loved it! We even found out that the owner is from New Jersey! Check out their website, www.sugarhillinn.com, if you're heading that way. WiFi is available in the main house but no TV's...who needs them!
Gary met up with us that evening and we went out to grab some food. The Inn has a 5 course meal every evening, but we weren't that hungry. BTW, breakfast is included in your room rate! We stopped back and bellied up to the small bar in the lounge. They had Tuckerman Brewing Co. beers in bottles and we drank the pale ale and the alt. Much to our delight, they were quite drinkable. Noticing they had a nice whiskey selection, we figured we'd save that for Saturday!
After a nourishing breakfast the next morning, we left for Lincoln to arrive a bit early in hopes of getting some taping done for "Still Crazy After All These Beers". Lincoln is the quintessential NE town....small businesses, friendly people and laid back attitudes. We met up with our contacts at the fest and made our rounds to tape a few segments. For your $25, you got 10 tasting tickets, free entertainment and a souvenir glass. A slider contest was also being held and a beer ticket would get you a slider at one of the contestant's tables.
Finally the sun made its appearance just in time for the festival and the jackets came off to bask in the welcome warmth.
Of course, I was hoping to add a bunch to my list and there were a lot of local breweries there:
Baxter Brewing of Lewiston, ME, Elm City Brewing of Keene, NH, Flying Goose Brewpub of New London, NH, Kennebec River Brewery of The Forks, ME, Peak Organic Brewing of Portland, ME, Sebago Brewing of Gorham, ME, Seven Barrel Brewery of West Lebanon, NH, Switchback Brewing of Burlington, VT, Trout River Brewing of Lyndonville, VT, Tuckerman Brewing of Conway, NH and Woodstock Inn of Woodstock, NH. Some of the regionals were also represented here: Magic Hat, Narragansett, Portsmouth, Sam Adams, Shipyard, and Smuttynose.
Surprisingly, some of these small breweries made some really slamming beers! Flying Goose Brewpub seemed to be one of the most popular with their Jack Wallace Maple Brown Ale and Saison d l'oie de vol. Sebago Brewing was another favorite of mine. Their Frye's Leap IPA, Boathouse Brown and Runabout Red were memorable.
As the attendees entered the grounds, the lines got longer at the beer tents and it became increasingly difficult to get a beer. We decided to call it a day and made our way back to Sugar Hill for a nap and a run at the bar.
Later that evening, Gary and I enjoyed some of the fine whiskies they had to offer and stumbled our way upstairs.
Much to our chagrin, the weekend came to an end and we headed back to the Garden State.
Looking forward to making another trip up there and spending a little more time. So much to see and do in that picturesque region anytime of year.