Celebration of the Suds
Atlantic City Fest
3/10-11/07
Well, the second annual Celebration of the Suds at the AC Convention Center was a much improved version of the first! There were now 2 sessions on Saturday and one on Sunday which broke up the day for everyone involved. Those 7-8 hour marathons last year were just too much!!!
The hall space was at least twice the size of last year which made for easier maneuvering from one vendor to another. Also, the quantity and quality of vendors improved with the attendance figures showing a marked increase of over 3,000 attendees. One of the few drawbacks was the food situation. There were still not enough outlets for people to eat properly. Certainly better than last year but still not even close...the lines and waits were long and the food only edible. I also found that not being able to leave and return was unnecessarily restrictive. Even at the GABF they allow that!
The distributors made a great showing and brought a large quantity of labels to be tasted. Hunterdon had about 3-4 booths highlighting some of the best of their lines....Chimay, Stone Brewing, Leffe, Allagash etc. Dogfish Head brought a lot of great beer and made some converts as did Otter Creek and Lancaster Brewing. Brooklyn Brewing debuted their new line of one-off beers with Local 1 as well as 3-4 other selections which kept lines long and people buzzing about it in the hall. Victory poured around 4 different brews to the delight of the crowd and Magic Hat brought their unique selections and was a very popular site. The larger domestic breweries increased the size of their spaces this year and poured a lot of beer: Yuengling, Redhook, Coors(Blue Moon) and Sam Adams. The import market was well-represented by Heineken, Guinness, Harp, Grolsch, Stella Artois, etc.
Entertainment took a step up also. Burnam Wood played a wide variety of Celtic and favorites. An appearance by the Beatle impersonator group, Beatlemania Now, that was appearing at Harrah's stopped by for a set of Lennon and McCartney favorites.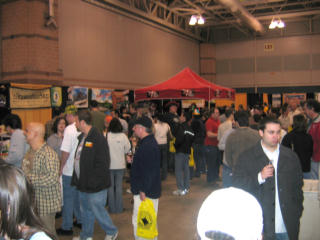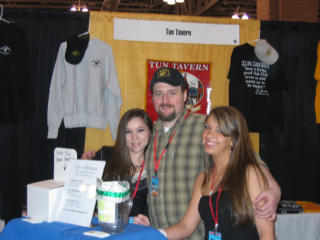 Lots of vendors selling beer paraphernalia, hot sauces, beer cruises, smokeless tobacco, etc. found their way to AC this year to peddle their wares to the anxious young crowds.
I understand that next year will be even bigger and better. Competition for festival crowds is heating up as almost every weekend has some special event happening in the area and that forces the promoters to offer more for less.
Keep an eye on the website for plans for next year and other events.