Bourbon Tasting with Lew Bryson
5/18/06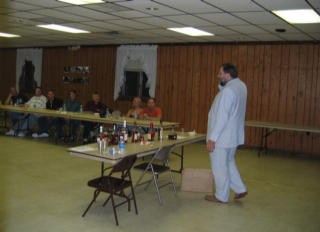 Having picked up a taste for Scotch whiskey, I decided that a night of bourbon tasting might be in order to see if I liked this style as well.
I asked my friend and famous writer, Lew Bryson, last year about doing one and he said that he would love to. I finally got my act together and, after finding a group of interested people, we set the date. Lew suggested the bourbons we should get and what he would bring. My friend Tony also decided to bring some of his personal stash also. We had planned on 10 bourbons, but Lew brought some surprises at the last minute and upped the quantity to 12! I thought, what a long night this is going to be!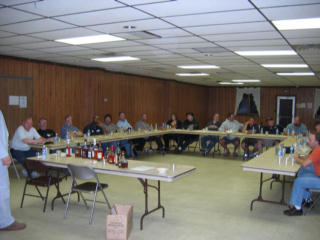 To accompany all this, Lew suggested we serve some BBQ along with it. My friend Don chose to make the ribs, Tony, chili, I made pulled pork Carolina style and my wife, cornbread and mac and cheese.
To defray expenses, I had to charge $25 for the tasting, but that didn't seem to bother most people. I was hoping to break even with the event and a surge of last minute attendees allowed me to just make that level.

Preparations went well and, before we knew it, the day of the event arrived. Lew made it down from PA without too much problem and we got him settled into the hotel. We looked at the lineup and he gave me an order of appearance:
1. Jim Beam White Label
2. Knob Creek
3. Heaven Hill Black Label
4. Old Whiskey River
5. Pikesville Rye
6. Wild Turkey 101
7. Four Roses Single Barrel
8. Makers Mark
9. Pappy Van Winkle 15 year old
10. Jack Daniels Single Barrel
11. Elmer T. Lee Single Barrel Sour Mash
12. Hancock's Reserve
Everyone arrived and dug into the BBQ buffet before the drinking began. I also placed water on every table to help keep the hydration levels up.
Lew began with a history of the drink as well as how it is made. Everyone learned something new that night! For several hours, I served up these 12 libations and many took tasting notes and decided on their favorites. After Lew exhausted his wealth of knowledge, an open tasting session began for everyone to taste those they considered worth a second taste. In addition, I gave away 2 of the bottles with a ticket drawing. For those who wanted to go lighter, I brought a couple growlers of beer from the Tun Tavern which the crowd eagerly consumed.
Lew had brought some of his books for sale and signing. His 3rd Edition of Pennsylvania Breweries is his recent release, but he also had some NY Breweries and Virginia, Maryland and Delaware Breweries copies.
Needless to say, everyone enjoyed themselves immensely and we hope to bring Lew back for another one in the Fall. Continued support will assure that. Discussion on a Scotch tasting has come up and we hope to plan something on that.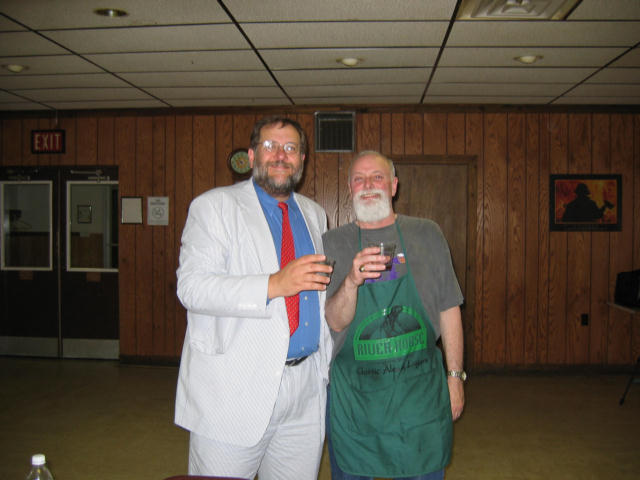 Cheers!