10th Annual Brandywine Beer Fest
Media, PA
5/15/10
We try to make this festival every year as it is one of the area's best. For 10 years, Iron Hill has sponsored this event for the Media Youth Center and has raised a good bit of money for it. The festival sells out quickly every year and has grown even larger. With limited space available, they have expanded as far as they can unless they change venues which is unlikely.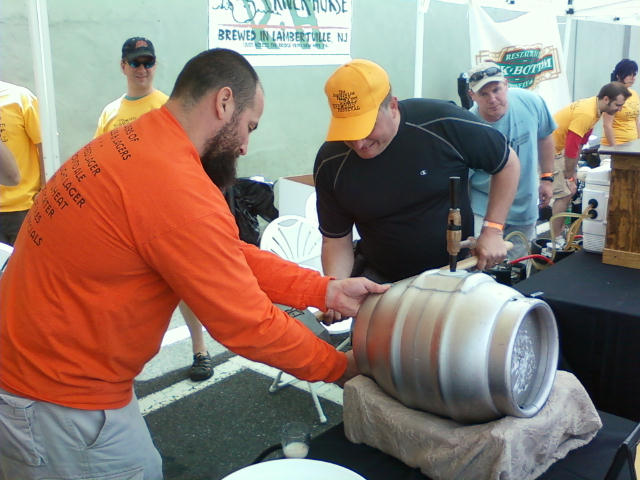 The festivities began with the honorary tapping of the first keg by Chief of Brewing Operations, Mark Edelson, and Media Brewer, Bob Barrar. Mark used the "Hammer of Power" from Philly Beer Week.
When I say that one could just stand at Iron Hill's booth the entire time and drink nothing but IH's beers, I would not be kidding. All 8 brewpubs donate the best beers they have and bring some "secret beers" that are shared by those lucky enough to be a friend of the organization. But, all the local breweries make their appearance here and pour their finest: Nodding Head, Flying Fish, Lancaster, The Brewworks, McKenzies, Dogfish Head, Triumph, Sly Fox, River Horse, Troegs, Appalachian, Victory, Rock Bottom and Weyerbacher to name a few.
The day was perfect also. It is usually very hot or very wet, but this year, it was sunny and temperate with a nice breeze blowing to keep the crowd cool.
As always, we got to see a lot of our beer compatriots. My close friend, Gary Monterosso, and his film crew from "Still Crazy After All These Beers" (featuring Guy Zompa) attended to tape some segments for their wildly successful website, www.afterallthesebeers.com. If you've never been there, it's a must for any beer lover. Gary interviews the best in the business and takes you to the finest events in the area. There was also a booth set up to promote Philly Beer Week manned by "Joe Sixpack" himself, Don Russell, and the ever-charming, Jennie Hatton. The aforementioned brewers from the IH organization are always there taking turns at the taps. It's a treat to see them all at one time in one place! The famous George Hummel arrived to enjoy a few tastes while leaving his significant other, Nancy, back at the homebrew shop(Home Sweet Homebrew) slaving away! Sorry, Nancy, but I can say with certainty that George really didn't enjoy himself at all....well maybe a little.
The illustrious author and drinks writer, Lew Bryson, and his beautiful wife, Cathy, showed up to share in the festivities as did famous Philly blogger, Bryan Kolesar and wife, Patty. The only one of the usual suspects missing was the incorrigible Mr. Curtin who SAID he was attempting to make some deadlines....we missed you, Jack.
What an eclectic selection of beers available though. Everything from the lightest pils to darkest doppelbock. Being a sour beer lover and hophead, my favorites for the day were Brewworks' offerings of Kriek and Hopsolutely, one beer for each of my passions. Of course, there were lots of other exceptional beers being poured: DFH Festina Peche, Nodding Head's Ich Bin Ein Berliner Weisse and BPA on cask, McKenzies Biere de Garde and Saison, FF Farmhouse and HopFish and Lancaster Amish 4 Grain. Now for those "secret beers" from IH: Imperial Pumpkin aged in Bourbon barrels, Cherry Dubbel, Saison w/ginger and orange peel and a lambic style.
Twice during the fest, Bob Barrar brought out some of his stash of jereboams and poured it in the middle of the crowd. What a treat!
Being a long drive home, we left after several hours and enjoyed a nice lunch in the brewpub before setting off for home. This event should be on your calendar every year. Don't miss it!