Capital Ale House
623 E. Main St.
Richmond, VA
804-643-ALES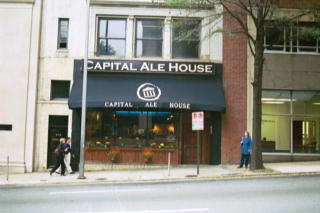 Looking for a nice place to meet some friends and enjoy some fine food and libations? This is it!
Unfortunately, unless you live in Richmond, it is a rare moment.
Just around the corner from the Capital Square, this downtown attraction has been pleasing visitors and locals alike for several years. With 40 beers on tap and 200 in bottles as well as a full bar, it can take you a while just to choose your poison. The emphasis of the taps is local and regional beers to give it that "corner bar" feel, though there are also international selections. The bottle selection is made up of beers from all over the world...USA, UK, Belgium, Germany, Czech Republic, Italy & Canada. Take a beer trip around the globe without getting out of your chair.
This venue exudes comfort from the time you enter. The oak-paneled walls and large oak booths give the feeling of a private club. The 60' bar is wide and has an ice rail built into it to keep your libation from getting warm while you enjoy a conversation with your friends or just peruse the extensive beer & wine list. You see, there are no TV's here to distract you from enjoying the ambiance or the company. Owners, Matt Simmons & Chris Holder, planned it that way. He felt that a pub should be a place for interaction between patrons not a place for the ubiquitous television.
The ice rail was an idea gleaned from bars in Pittsburgh & Arizona. It is 54' long and is a refrigerated stainless tray that is filled with water at opening and then allowed to melt and drain away at closing.(It's the white stripe in the foreground of both pics below) Just one of those little extras that give Capital Ale House its unique feel.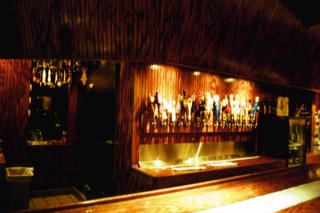 The food is also a highlight here. The extensive menu runs from oysters to pizzas to steaks, seafood, pasta and elegant desserts. From a small snack to a full meal, you can enjoy the freshly prepared items with a matching brew to complete the culinary experience.
The Capital Ale House is available for your banquets and special events. Special menus are available for all price ranges. On Sunday, they present a special brunch menu from 10 AM- 3PM and have special event nights during the week......Burger Night, Free Pizza Night, Steal the Glass Night, etc.
Have a question about a beer? Ask one of the knowledgable servers for their input. They understand the styles and will help you choose one that you will enjoy. The more you know, the better your experience in a beer bar of this quality. The beer list can also be a wellspring of information to acquaint the uninitiated not only to styles, but to the individual flavor profiles of each of the choices.
In addition to the two dining rooms on the main floor, downstairs there is a game room with pool, darts and other games as well as a complete bar.
Check out their website, www.capitalalehouse.com, for all the info you'll need to find this gem, their menus, beers, etc.
So, whenever you're in the Richmond area, be sure to add this to your itinerary. There's a lot of good beer to be had here. Bring your friends and enjoy a night out in this most pleasant of establishments.