King of the Iron Hill
Earth Bread + Brewery
2/18/10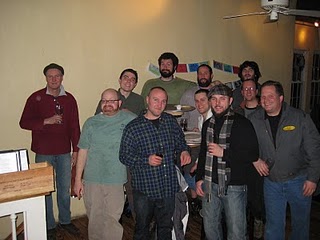 Tom Baker did a lot of cajoling to get Mark Edelson to acquiesce to do this event. It is rarely ever done within their system let alone at a neutral locale. The IH brewers are a competitive bunch and will always look to outdo their fellow zymurgist. Here was the chance to pit all 8 locations against each other and see who the public likes the best. Each location brought a sixtel of their choice and the first one to kick was the King.
The assortment was as eclectic as the personalities and a better list of choices you will never see anywhere!
Newark-Justin Sproul- Russian Imperial Stout, 9.5%, 2 Gold medals at GABF '03 & '06, '06 World Beer Cup Bronze medal, full body, roasty and hoppy.
Maple Shade-Chris LaPierre- Caprice, 5.4% American Belgian Ale w/Amarillo and Cascade hops.
North Wales-Vince Desrosiers-Wee Heavy, 8.3%, '08 World Beer Cup Silver medal, '04 World Cup Gold medal, '98 & '01 GABF Bronze, Strong scotch ale made with cherry-smoked malt.
Phoenixville-Tim Stumpf-Roggenbier, 5.5%, '08 GABF Gold medal, German rye beer
West Chester-Larry Horwitz-Cherry Dubbel, 7.3%, aged in lambic barrels w/sweet cherries
Wilmington-Brian Finn-Cannibal Nocturnem, 8%, Belgian-style dark ale
Media-Bob Barrar-Bourbon Porter, 5.3%, Pig Iron Porter aged in bourbon barrels with whole vanilla beans.
Lancaster-Paul Rutherford-Abby's Fault, 9%, American style Belgian Golden Ale w/lots of American hops!
Everyone had a great time and the upstairs bar was full. Bryan Kolesar of BrewLounge fame was there to enjoy the event and took some pictures. My camera did not cooperate and the photos were dark. The pics above are thanks to BK. In the end, Media's Bourbon Porter was the winner and Bob got to wear the crown!