Garden State Brewers Guild Fest
6/24/06
Battleship New Jersey
Camden, NJ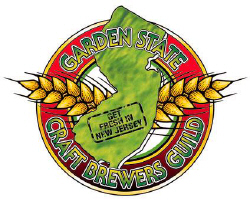 The 10th annual GSBG Festival took place on a hot and gloomy day with a chance of severe thunderstorms later in the day. But it didn't keep the diehard fans of NJ beer away! 700+ people made the trek to the Battleship NJ at the Camden Waterfront for a day of beer and music. This year, the tents were set up on the fantail of this humungous vessel which made it convenient for touring and attending.
The weather didn't fully cooperate, but the rain stayed away until after the fest. It was hot and humid under the tents, but a nice breeze blew off the river. We were once again on the river side of the tent and enjoyed that breeze all day.
It was a shame to see so few people come from Philadelphia as it is only a very short trip across the bridge to the venue. It was also a shame that not all the members of the Guild attended their own fest. Some say that it is too far to come down to Camden, but they don't realize that Waterloo was a long way for MOST of the Guild members.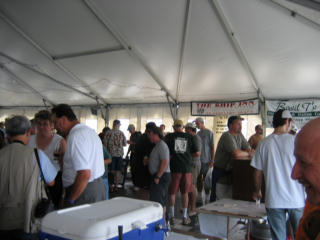 Heavyweight, Tun Tavern, Basil T's(Red Bank), JJ Bittings, Pizzeria Uno, Flying Fish, Ship Inn, Triumph, Cricket Hill, Gaslight, High Point, and Harvest Moon all brought their best brews for the crowd to enjoy and enjoy they did! Ale Street News and Jack Babin attended to sell their fine Beer Goddess apparel. They have become a fixture throughout the U.S. beer fest circuit! Thanks, Jack and Tony!
This will be Heavyweight's final showing at the Guild Fest and Tom Baker's final as Guild President. He is skeptical about the future of the Guild, but I hope he is wrong.
How could you beat the deal? For $30, you received a nice plastic glass, all the beer you can drink and a tour of the Battleship NJ??!! I trust people will reconsider attending next year and make a better showing.
I saw a bunch of friends I haven't seen in a while. My friend and one of the best beer personalities in the world, Gary Monterosso, came to show his support and did his Beer Radio spot on Sirius Radio right from the site. Kevin Trayner, the NJ correspondent for Ale Street News, made an appearance as did Don Russell aka Joe Sixpack of Philadelphia Daily News fame with his handycam to memorialize the event on digital media. Dave Griffin, one of the best photographers around, brought his collection of cameras to take pictures of the occasion.
As for the beer, there was a lot of great new things. Heavyweight brought a lot of their newest creations: Zizzy, a wild rice beer, Doug's Colonial Ale, Ham on Rye, Gotlander beer and the usuals, Lunacy, Baltus, etc. Triumph brought an excellent Rauchweizen, Tun Tavern was pouring his Ryebock Lager and Summer Weiss, Flying Fish had their Summer Farmhouse Ale and most of their regulars, Basil T's had their Ice Boat and Scottish Ale, Pizzeria Uno had his Gust n'Gale Porter and Hefeweizen, JJ Bittings served their Hopgarden and Raspberry Wheat, Ship Inn brought their Summer Ale, Gaslight had their Cream Ale & Brown, High Point had sent their Pale Ale and Blonde Wheat, Cricket Hill poured East Coast Lager & Hopnotic and Harvest Moon their IPA.
For everyone's entertainment a multi-dimensional band played all styles of music.
This fun event is held the same time every year. Show your support by planning to attend next year's festival. Check out the Guild's website to keep abreast of all the members' events and sign up for their regular newsletter.
Cheers!