Harvest Moon Hello/Goodbye Dinner
7/15/10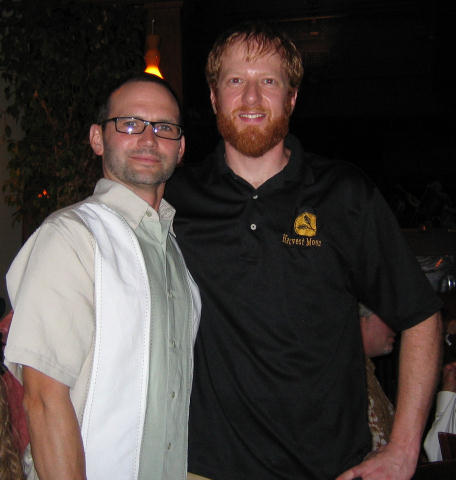 After 8 years at the HM kettles, Matt McCord decided to hang up the mash fork and return to a normal existence with his family. The strain of traveling the long commute and the labor-intensive job took its toll on Matt. This dinner was to salute his years of prolific brewing and to welcome his assistant, Kyle McDonald, to the job of head brewer.
It was a long trip for us on a Thursday evening, but I didn't want to miss this special event.
We arrived early and bellied up to the bar to start the festivities. I enjoyed an oak-aged IPA with a nice hop profile but not much oak. Soon we were led upstairs and chose our seats. Matt was running late, so we sat and talked to our tablemates and enjoyed some Elmes Mild Manor which was served for our first course.
When the guest of honor arrived, we all sat and enjoyed some words from the new brewer, Kyle, and Chef, ______, about the upcoming 7 courses of food and beer!!! The chef has been doing cuisine à la biere for several years and enjoys doing innovative dishes prepared with and paired with beer.
Prince Edward Island Mussels steamed in Mild Manor with Smoked Garlic, Fresh Thyme and Shallots appeared before us and were quickly devoured. Despite not being big mussel fans, we thoroughly loved this dish.
When the Belgian Witbier was poured for us in a large wheat glass, we had concerns about being able to imbibe 7 large beers and still be able to navigate the 100 miles home. It seems that most of the attendees expressed the same thoughts to the servers and, from then on, 1/2 pours were the order of the day. With the Wit, we had a Chilled Cucumber & Melon Soup w/Preserved Lemon Yogurt and Fresh Mint. This was tasty, but not my favorite course.
Next up was the Moonlight Kölsch served with a salad of Baby Arugula, Fennel, oranges, Toasted Walnuts & Montrachet Goat Cheese w/ Lemon-Basil Vinaigrette. I do love salads and this was a very delicious one.
Looking at the remainder of the menu, we all wondered if we could actually consume all the food with the largest servings yet to go.
Full Moon Pale Ale was poured next to accompany a Citrus-crusted Salmon set on Toast Quinoa w/a Chilled Asparagus Salad, Dijon-roasted Beet Drizzle & Saffron Aioli. I do enjoy a nice piece of salmon and this one was very well-prepared. Even my wife liked it and she has to be forced to eat salmon!
A Roasted Garlic Confit of Beef Short Rib set on Crimini Mushroom Polenta w/Grilled Baby Zucchini, Smoked Tomato Coulis & Parmesan Cream was served next along with Jimmy "D"Red Ale. This beer is brewed in memory of Jimmy D'Heron who was a Deputy Chief in the local Fire Dept. who lost his life saving the occupants in a fire back in 2004. Proceeds from the sale goes to the Childrens' Burn Camp in Connecticut. To date they've donated over $60,000.
The chef was particularly proud of the next course. He made a Belgian Triple and Pear Sorbet w/Frozen Bleu Cheese Crumbs. He had not heard of a beer sorbet before and was quite pleased with his accomplishment. I have had several in the past at Monk's Cafe and in Belgium and this palate-cleansing dish was outstanding(except for the bleu cheese, I cannot eat bleu cheese!)
Now for my favorite part of the meal, dessert!!! We had a delicious Chocolate & Raspberry Mousse in a Pretzel Cup w/an Espresso Schwartzbier Float!! An unbelievable finish to a fantastic meal! We waddled on out to our car and got home in the wee hours!
It was also nice to converse with my friend and colleague, Kevin Trayner, of Ale Street News fame. We see each other so rarely and get to comapre notes with what is happening in the Garden State. Made the night extra special!
If you get the chance be sure to stop by and see Kyle working hard to fill Matt's shoes and supplying his locals with his great beers. Check out their website for current selections.