Heavyweight Vegetarian Dinner
Monk's Cafe
Phila, PA
6/8/04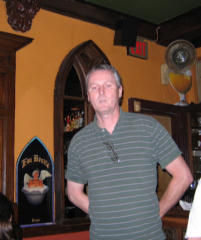 Another delightful time was had by all at Monk's Cafe on Tuesday, June 8. It is a rare occasion that a vegetarian beer dinner is presented and, although carnivores, we have eaten with Tom Baker & Peggy Zwerver(owners of Heavyweight) many times where we have respected their dietary restrictions.
Owners Tom Peters and Fergus Carrie and chef, Adam Glickman came up with a fine menu that was actually vegan (no dairy). It pleased both meat eaters and vegetarians alike. Textures and flavors of some of the courses resembled meat and made for nice crossover foods.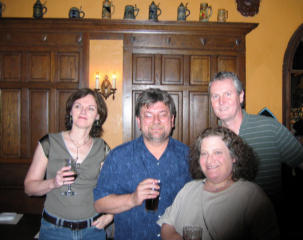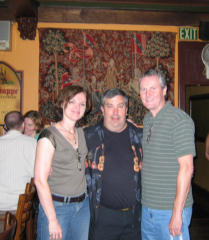 As with all the dinners, writer George Hummel of Home Sweet Homebrew, gave a short presentation about the theme of the dinner and introduced Tom to the group.
Tom told us a little about the brewery while we enjoyed an apertif, his small beer, Black Ocean, which is fermented from the second runnings of his Imperial Porter, Perkuno's Hammer.
The first course was quick to follow. HW's Alt Beer, Stickenjab, accompanied a grilled Seitan Satay with a spicy peanut sauce. Seitan, I found out, is wheat gluten that has a similar texture to chicken when prepared in that manner. If you weren't told it wasn't chicken, one would never have guessed it! In fact, one of the people remarked that he didn't know how chicken figured in a vegetarian meal!
The second course was a Smoked Tomato Terrine, smoked yellow & red tomatoes with spinach and herbs and was served with Tom's One Time One Place offering, Golden Idol. This Orval-style beer has a wonderful hop & Brett(tart) nose and palate and I think will be brewed again at some future time. At least, I hope so!
Tom cultured a starter from some Orval bottles and the profile has aged wonderfully; only to get better.
Next, we were treated to Tempeh BBQ which had the appearance and texture of meat loaf. Side dish was sweet corn/black bean salad that was excellent! Two malt delights were served with this course: Two Druids Gruit Ale(2 years old) and a wood-aged(1 year) Perkuno's Hammer. Two Druids is from an medieval recipe and is made with herbs instead of hops: sweet gale, yarrow and wild rosemary replace the bittering units with an herbal finish which has become tarter in the last few years. Perkuno's Hammer is a Baltic-style Porter with an immense body and lots of roasty, coffee and chocolatey notes. Also, it comes with an abv of over 8%!
Not missing a beat, we feasted upon a Savory Hijiki Strudel. It was comprised of hijiki(a seaweed), morrel & maitaki mushrooms, ginger, garlic & toasted sesame seeds, sided by sauteed bok choy & tempura sweet rice balls. If that wasn't enough, we received 2 beers with this course also: Tom's Belgian Strong Dark Ale, Bizarro, at 10+% and Pegalina Pale Ale, another OTOP with a nice hop profile.
Not sure if we could eat another bite, a short respite was given and Tom & Peg "worked the room" talking to the attendees and answering any questions they may have had.
For dessert, we enjoyed a Nectarine & Blueberry Pie accompanied by Tom's latest creation, an Imperial Stout which is still a brew-in-progress.
Monk's is one of the premiere Belgian restaurants in the U.S. and we are so glad to have Tom & Fergie close to us and so in love with good beer. Dinners are a regular event and one should check out their website for future happenings.