Michael Jackson Tour '05
3/10/05
For the 5th year in a row, Gary Monterosso and I were honored to accompany Michael Jackson, the Beerhunter, on a day of fine food and beer traveling. Each year has had its unique set of circumstances, but things always work out and we have a fun day. For this trip, MJ had a camera crew following him to document his travels for possible future release on DVD. This production company films his DVDs for the Beer Club members. (Info on these can be found at realbeer.com.)
This year, we had to begin by picking MJ up in Lewes, Delaware after he enjoyed an evening with the crew from Dogfish Head. Sam Calagione is one of Michael's favorite people and takes every chance possible to confer with this most innovative of brewers.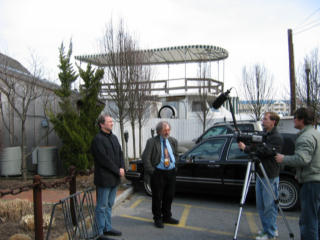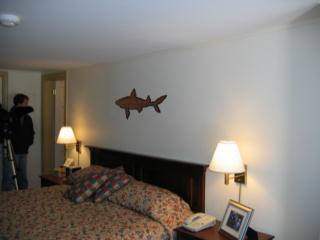 Gary and I got an early start to board the first ferry at 7:30 as were to be there at 9:30. The weather was cold and brisk but sunny. The trip over the Bay was a smooth one and we took the chance to catnap. Arriving at the Inn at the Canal at 9, Gary went in to see about MJ. He was already up and eating breakfast which we were invited to join. Pleasantries with Michael were exchanged and we met the management of the Inn with whom we conversed for a while. RJ and Clark, the camera crew, returned and we got a chance to meet them and banter about ideas concerning the productions while MJ prepared to check out of the Inn. To show Sam Calagione's influence in this part of the world, Michael had stayed in the Dogfish Suite, decorated with logos from the brewery and their beer in the mini-bar. For reading material, many of MJ's books were available as well as several other recent books on beer.
We loaded the bags into the truck, did a bit of filming with Gary (and myself) and left out for Bear, DE and Stewart's Brewing. We had always wanted to visit this brewpub where Ric Hoffman is the brewer and has been doing some amazing things on his small system. I had looked for a place to stop on our way to PA and found this right in our path. Fortuitously, their beer was just chosen to be included in MJ's tasting at the U of P on Saturday and he said it would give him a chance to reacquaint himself with the beers and people as he had not been there since 1995. Pulling into the small shopping center in Bear, we were ready for our first beer of the day!
We were greeted by Al Stewart, the owner, Ric and his assistant, John. Wasting no time, the beers started to flow and Ric and Michael powwowed for the details on each while RJ and Clark filmed away. We enjoyed some of Ric's best including some of the last of his wedding beer, Bourbon Barrel Grand Cru. The barleywine being tasted at the event('03) was poured along with the previous year's vintage. Some of the new items still in the fermenter were also passed around...a Munich Dunkel and a Double IPA, both looking to be very well received when done.....can you say road trip?!!!! A hearty lunch was served and then it was time to go.
The trip up I-95 was uneventful other than a slight delay for an accident. We pulled into the lot at Yards Brewing a little late, but ready for Round 2. Yards is in a very old building in Kensington which was built as a brewery in the 18th century. Its character is still there and is a great place to visit as well as work. We were greeted by Joe, Nancy & Bill Barton and Tom Kehoe. Introductions were made and again, with no time to waste, Tom began pouring the beers and explaining their production. A short tour of the facility followed. (Yards will be featured soon as Brewery of the Month)
Nancy suggested we stop at Standard Tap for dinner and joined us to point the way. MJ had not been there either for many years and for Gary and I, it was a premiere visit. William Reed, the owner, met up with us and we found a cozy spot to seat all of us. This venue will be covered on another web page in the future, but suffice it to say, it is a fantastic local bar with great ambiance, beer and food. As usual, beers were poured, food was served and conversations carried on until, as Gary had promised Owen, we left to deliver Michael to his hotel at a reasonable time and in reasonable shape. He had early appointments for a phone interview with WHYY radio and a TV spot on CN8. We made sure he and his bags were safely escorted to the Front Desk and we said our goodbyes and headed home.
These days are always long, but so enjoyable, we would not consider not doing them. I can't thank Gary enough for keeping me included in these forays every year. Planning for next year has already started!
Cheers!

HOME