Michael Jackson's Tutored Tasting
University of Penn
3/18/06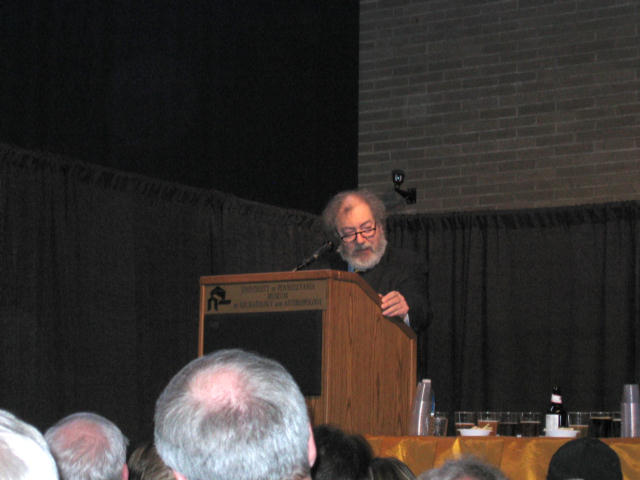 For the last 6 years or so, we have made this glorious event. MJ is at his best in a venue like this. Unfortunately, he doesn't have the time to digress like he enjoys as he is only limited to an hour on the dais. For him, that's just warming up.
This was the 16th year that he has performed for the eager crowds at the Museum. For those uninformed, Michael chooses a theme every year and picks eight to ten beers to exemplify that theme and gives a short narration about them as everyone tastes them. They hold three programs during the day: 1PM, 3:30PM and 6PM. Needless to say, it is a long day for the Master of Ceremonies and, by the last show, he is more than a little toasted. After the tutored tasting, one gets to spend 2 hours in the Rotunda tasting the best of the world presented by breweries and distributors from the area...over 100 beers for your tasting pleasure! Sausages, bread and pretzels are also served to help sop up some of the alcohol.
You also get a chance to buy some of MJ's newest creations and have him personalize it for you. This year, I picked up the "Whiskey" book that he just finished as I have just "discovered" Scotch and Bourbon. It also gave me a chance to talk to MJ for a minute or two. This was the first year in six that Gary and I did not take him around for a day.
The theme this year was "Great Grains, Great Beers", a collection of beers brewed with different grains. He picked a wide selection of styles and included, as he always does, beers from local breweries:
Chester County Lightning from Sly Fox, PA
Joseph Spelt Ale from Brasserie de Silenrieux, Belgium
Sara Buckwheat Ale from Brasserie de Silenrieux, Belgium
Jewish Rye from Triumph Brewing, NJ & PA
Red Rice Ale from Hitachino Brewery, Japan
Chateau Jiahu from Dogfish Head, DE
Oatmeal Stout from Troegs Brewery, PA
Schneider Aventinus Weizenbock from Schneider & Sohn, Germany
A motley selection of beers to say the least and his stories really make the day! We've always told him that he should print a compilation of anecdotes, but he's afraid someone will be offended by them. Oh well, maybe some day!
After the show, comes the good time. I get to see some people that I don't often see. They are the elite of Pennsylvania and Delaware beer: Bill Covaleski(Victory), Sam Calagione(Dogfish Head), Ric Hoffman(Stewart's), John Fiorilli(Stewart's), Tom Peters(Monks), Chris Lapierre & Larry Horwitz(Iron Hill), Carol & Ed Stoudt(Stoudt's), Curt Decker & Gordon Grubb(Nodding Head), George Hummel(Home Sweet Homebrew), my good friend Rick Suarez from Unibroue with his trusty assistant Cesar and another great friend Greg Somers from the State College Microbrewers Expo. I used to overimbibe at this event, but have learned that schmoozing is a much better way to spend the time.
This event is held every year around the 3rd Saturday in March. Put it on your calendar for as long as MJ lasts. His health is not the best and I'm not sure how much traveling he'll be able to do in the next few years, so catch him while you can.
Check out beeradvocate.com or upenn.edu for dates.