Dogfish Head and Norrebro Bryghus
Monk's Cafe
10/11/07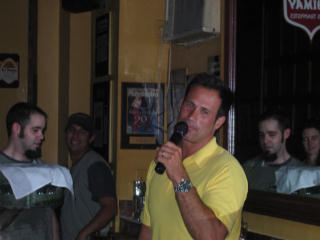 This was to be a dinner hosted by Sam Calagione of DFH and Anders Kissmeyer of Norrebro Bryghus of Denmark, but the beer gods and weather had other things in mind. Ander's flight from Seattle was late and he was expected about an hour into the meal. Then the weather gremlins stepped in. Thunderstorms hit Philadelphia aggressively and the flight was diverted to D.C. and with him went the supposed star beer of the evening....the collaboration that Sam and he brewed together in Sweden.
For a starter, our appetites were whetted by the refreshing Berliner Weisse, Festina Peche served with a Beet Salad which was excellent. Never having been a fan of beets, I couldn't believe it!
We were served DFH's Indian Brown Ale one of their flagship beers which has always been underappreciated. Every time I drink this, I say I have to buy it more often, but there's always something on my list that delays that. Quail with lentils was placed before us and I knew we would be in trouble by the end of the night trying to ingest all the food. An outstanding pairing if there ever was one.
Sam's famous Pangaea was poured for us next. This concoction made with a product from each of the 7 continents was named for the single continent that floated in the middle of this ball of water before drifting apart millions of years ago. Paired with pan-seared Diver scallops and chowder sauce, it was most enjoyable. I love scallops and my doesn't so she gave me hers also. I was in heaven.
A Lamb Shank Confit w/shitake mashed potatoes and bitter greens sat in front of me and I just sighed. Maybe I shouldn't have had those extra scallops..... At any rate, the lamb washed down beautifully with 90 Minute IPA and the first of several beers from Norrebro, North Bridge Extreme, a 9.5% malt & hop bomb.....odd you say, well, it was a balanced brew despite both designations.
I finally saw some respite coming. I am not a cheese eater so I just enjoyed the fruit compote that accompanied the Stilton, 3 year Cheddar and Taleggio cheeses. It was my wife's turn to reciprocate by taking my portion. I just sat back and enjoyed the sweet and brandyish Raison d'Etre and the Skargaards Porter, a 6% dark beer with bacon(?) and malt in the nose but dry, chocolate and coffee notes in the palate.
The end was in sight! All I had to do was get through the dessert and I was home free! Norrebro's La Granja Espresso Stout and Dogfish World Wide Stout '03 sat before me dark and menacing. La Granja was sweet and very coffeeish and the WWS is, of course, very warm and syrupy...outstanding. They both were wonderful with the Chocolate Cheese Cake though overpowering as they are. What a finish! I made another one!
Looking forward to the next adventure! Cheers!