Left Hand/Terrapin Dinner at Monk's
10/29/09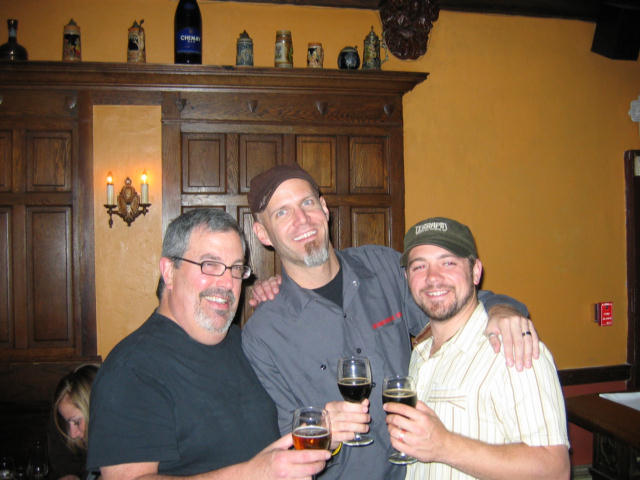 An unusual month where Tom Peters presented 2 beer dinners for our dining pleasure. We enjoyed the Oktoberfest Dinner on 10/13 and eagerly anticipated this offering due to limited distribution in this area of both the breweries. Not only would we get some fine beers from these great breweries, but we get to meet the men behind the brews: Chris Lennert from Left Hand and Dustin Watts from Terrapin. These two have been friends for years and have collaborated on several occasions despite being on opposite ends of the country. This was just one stop on a whirlwind tour of four beer dinners in four days. They started out at Taco Mac's in Atlanta, GA, then on to Tyler's in Durham, NC, Mekong in Richmond, VA and saving the best for last, they arrived happy but bedraggled at Monk's in Philly.
We began the night with the Left Hand Haystack Wheat as our welcoming beer, a lightly spiced brew that prepared our palates for what was to come.
The next course really made me think about whether this was such a good idea. With only a little libation in us, we were faced with Grilled Baby Octopus...3 small tentacles accompanied by the Terrapin Rye Pale Ale. I just quickly ate them and tried not to think about it. The grilling was the only flavor you received so it made the course a textural thing. The best part was the Rye Pale brewed with 10% rye malt and nicely hopped.
The 2nd course was much more civilized...Shrimp with Orange Gastrique paired with the Left Hand St. Vrain Triple. I love shrimp almost any way you can serve it and the triple was a great accompaniment.
The next beer was a favorite of mine for many years. Left Hand's JuJu Ginger was a hit with me at our second GABF in '99 I believe it was the first beer I tasted that was brewed with ginger. The Maple-Glazed Acorn Squash stuffed with wild rice, walnuts and craisins was an outstanding dish and the dryness of the JuJu really made it for me.
Up next were 2 of the brewers' special beers: '06 Terrapin Substance Abuse and Left Hand's Imperial Stout. The Terrapin choice was an excellent Imperial Stout aged in Bourbon barrels and the Left Hand IS was of the Russian Style with big, bold flavors.
The cuisine here was Smoked Seafood & a Bleu Cheese Savory Tart. The seafood was excellent, but bleu cheese does not agree with me, so I left that for my wife.
Terrapin's Big Sloppy Monster was placed before us next. This beer of 8.3% and in-your-face flavors.....lots of malt and hops aged in Jack Daniels barrels. Delish!!!
Thinking I couldn't eat much more, a large piece of Pork Loin with Apples and Juniper was set in front of us. I just groaned and got through it!
We always look forward to dessert here and the collaboration beer that was poured with it once again gave us pause to reflect on its goodness. A Cappuccino Creme Caramel was as rich as the beer, LH/Terrapin Depth Charge. It certainly lived up to its name and was a meal topper to be sure.
We got to speak with both brewers and it was a wonderful evening. Also in attendance, was fellow beer writer Owen Ogletree who scribes for the Southern Brew News as the Georgia Correspondent and his wife, Kerri, who is the Beer Wench and works Brewing PR.
Next up, the best of the year....Tom's Holiday Dinner! See you there!