Russian River Dinner
Monk's Cafe
Philadelphia, PA
1/23/07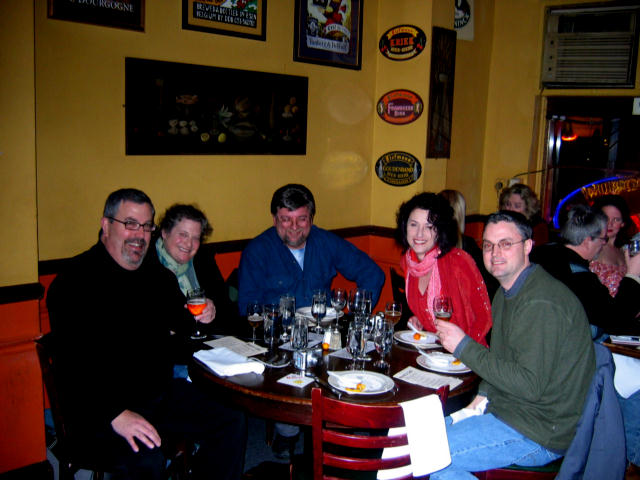 As the cold winds of Winter began to blow into the unseasonably mild Northeast, the travelers from Sunny California arrived to host several events in Philadelphia. Vinnie and Natalie Cilurzo, owners of Russian River Brewing, brought some of their best beers to share with us. As usual, Adam Glickman and crew prepared an outstanding menu to pair with the selections.
After a short intro by George Hummel, Vinnie got up and gave a little background on the brewery and its products. He explained each beer we were going to taste later. Let the fun begin!!!!
Or first course was a seafood mousse amuse on grilled meyer lemon accompanied by RR Damnation, a fruity Belgian-style pale ale with a light hop finish.
The next offering was Spicy Thai Shrimp and grilled watermelon to be washed down by RR Temptation, a bretty libation aged in oak chardonnay casks. The rather spicy shrimp was complemented perfectly by the light tartness of the beer.
Grilled scallops ended up as a substitute for the smoked cod which was good for me...I love scallops. Served with grilled cantaloupe and caviart on pickled dichons, the beer choice was Sanctification, a nicely tart 7.5%abv selection with a hint of grapes.
Next up was an Apple-glazed Duck Breast w/maple glazed, baked lady apple. Monk's makes the best duck anywhere and this was so excellent!!!! Supplication was the drink of choice here. It is another funky beer aged in Pinot Noir barrels with cherries added to the oak. Its tartness was in direct contradiction to the sweetness of the pork.
As if we hadn't had enough, a 6% hopped up IPA called Blind Pig was served to the delight of all the hopheads in the place.( I got my wife's portion.) BP was full of citrusy hops and a nice break from the Belgians. A Mini Pork Tenderloin Sandwich w/grilled pineapple arrived and, feeling renewed, we dug right into this outstanding course.
Last but not least, we were forced to eat the Bananas Foster Bread pudding for dessert!!! A strong, dark 9%er accompanied the pudding, Salvation is its name and its not! For many, it was the Corruptor! Needless to say, after all that beer and all that food, I'm glad my wife drives home!!
Now we only have 2 weeks to recover until the other Left Coaster comes to take a shot at our liver. Tomme Arthur of Pizza Port Solana Beach fame will be at Monk's to bring some of his new offerings from his production brewery, Port Brewing. Hope we see you there!!!