Lost Abbey Beer Dinner
w/Tomme Arthur and Vince Marsaglia
2/6/07
Monk's Cafe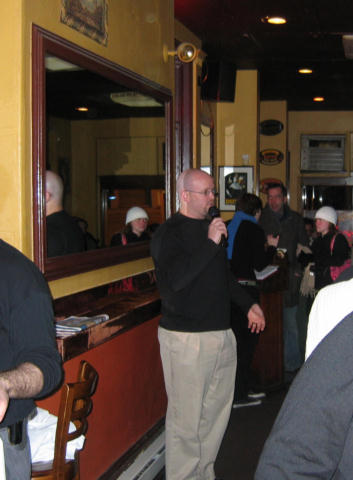 The beers of Tomme Arthur coming out of Pizza Port Solana Beach have been known around the world and have won awards too numerous to count. Tomme's imaginative use of Brett, hops and fruit have made for some of the best beers in the world. Well, he has finally purchased the old Stone Brewery and transformed it into Port Brewing Co. so that he can supply the markets that have clamored for his creations for many years. His new line of brews are titled "The Lost Abbey Series" and are available in 750ml bottles in select markets.
Once again, he has come to Monk's to treat us to his new creations and chef Adam Glickman's culinary creations.
The first selections we received were Lost Abbey Avant Garde(bottle-conditioned), a biere de garde style of 7%abv made with toasted malt and En Garde(draft), a tart, Bretty style. They were served with a goat cheese, tomato and bermuda onion tart, a lot of food and beer to start!!
Next up was Lost Abbey Red Barn(draft), a spicy, tripelesque brew made with black pepper and grains of paradise. A nicely spiced Crawfish Etouffee arrived which was perfectly complemented by the beers.
By this time, people were wondering how they were going to eat the rest of the meal! Only 2 courses down and 3 more to go!
Lost Abbey Lost and Found(bottle-conditioned) and Amazin Grace(draft) were poured next. The former had a fruity nose and lots of alcohol warmth and flavors of dried cherries with a slightly medicinal accent and the latter had a phenolic nose with a Brett dryness and again dried cherries. A large Chicken Roulade with Ardennes Ham, Pere Joseph Belgian Cheese and Spinach made us just shake our heads in frustration.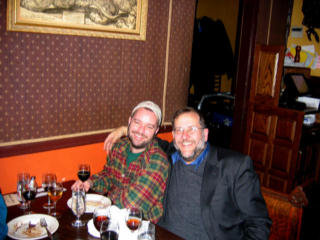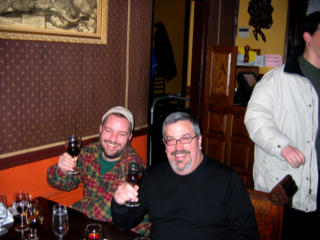 Lost Abbey Veritas(draft) was very tart and vinegary, with a dry cherry palate to it. Made with Brett and cherries, it reminded me of a kicked up Quelque Chose(Unibroue). Accompanied by a Duck & Pheasant Chili with dried cherries, navy beans and poblano peppers, the beer was actually made tarter by the chili! The chili was a thin but very stout broth with the meat and veggies. It was excellent and we opted to take it home for later consumption as did several attendees.
As always, the dessert shows up and we give it our best shot at eating it. The Chocolate Cake and Coffee Mousse were luckily not exceptionally filling but the Lost Abbey Angel's Share(bottle-conditioned) provided more richness to an already super meal. This 12.5% monster had a lot of wood in the nose and oak and vanilla cream in its smooth palate. What an end to a perfect culinary experience!
Look for the "Lost Abbey" beers at your local outlets. They are available in NY, Boston and PA right now.