Brooklyn Beer Dinner
Monk's Cafe
3/13/07

If you have never been to a dinner with Garrett Oliver, you are missing one of the great culinary pleasures in life. Here is a man who is as passionate about food as he is beer and, of course, has written the quintessential book on the subject of pairing them, The Brewmaster's Table. Combine that with the kitchen skills of Tom Peters and Adam Glickman at Monk's and you have the recipe for one of the greatest beer dinners we've ever attended. Surprisingly, this was the first event that Garrett did at Monk's and he certainly made up for his absence!
He arrived early and we got the chance to talk to him and rep, Mike Carleton. For a reception beer, they served up some '05 Saison which had kept its fruitiness though a bit drier for its age.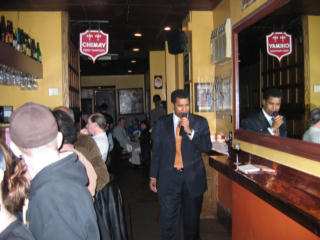 For our first course, we had an amuse of smoked salmon mousse with a hint of framboise in flaky pastry cups. It was accompanied by the Brooklyn Cuvee d'Achouffe made in Brooklyn with the assistance and yeast from Brasserie Chouffe of Belgium. This slightly fruity yet dry brew was made with thyme and candi sugar syrup.
Next up was something new. Brooklyn Local 1(9%abv) is the start of a series of specialty beers. Here was a totally bottle-fermented beer: 3 weeks in the bottle with Belgian yeast, filtered and reyeasted and sugared with demerara sugar and left for a 10 day warm fermentation before shipping. It contains no spices and is hopped with Perle & Styrian Goldings. Brooklyn had to set up a completely new bottling line for this as no CO2 could be used. This nicely sweet golden ale was served with pan-seared PA rainbow trout with local baby cilantro. Definitely another excellent pairing!
Thai glazed quail with spring roll stuffing exited from the kitchen next and was met with great delight. The slightly spicy quail was complemented beautifully by the old standard East India Pale Ale made with 100% UK malts.
Before we knew it, another of Brooklyn's flagship beers was in front of us, Brooklyn Brown. It was paired with a smoked pork loin with chipotle sauce. The sweetness of the Brown cleansed the lightly smoky spiciness of the pork from the palate.
In my opinion, nobody prepares duck dishes better than Monk's! The roast duck with cherry sauce was a delight and matched up with a Smoked Weissbock, an 8%abv beer
made with Belgian wheat and German smoked malt from Bamberg. Its light smoke, banana and bubble gum flavors was certainly distinct and complemented the duck perfectly.
What else could you have for dessert....Black Chocolate Stout and Chocolate Coffee Cheesecake!!!!???? A perfect ending to a perfect dinner!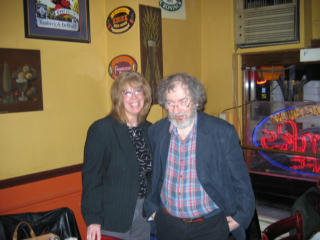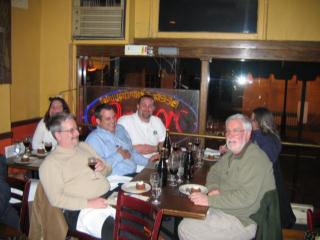 I heard most people say that it was the best dinner they had ever attended. Of course, Garrett's charisma and constant commentary between courses makes for an informative as well as tasty experience. To add to the excitement, Michael Jackson and his friend, Carolyn, showed up to enjoy the dinner. It was certainly nice to see him again as we had not for the last year. He is coping with the progression of his Parkinson's, which is quite evident now. It seems there's a lot of travel and writing left in him after all!
Check out Monk's website for future events and Brooklyn's website for a list of their happenings.