3 Fonteinen w/ Armand Debelder
@ Monk's Cafe
3/16/08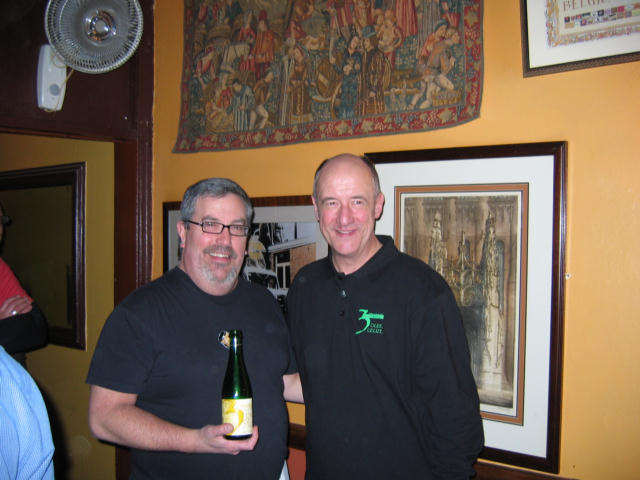 Brouwerij Drie Fonteinen in Beersel, Belgium is one of the few remaining brewers and blenders of traditional lambics allowing them to use the appellation "oude" on their products. Armand Debelder is the owner/brewer/blender who took this small company to become a name known around the world. Armand started out as a blender who bought his lambic from several breweries who still made it with the traditional methods. In 1999, he bought a small brewery from Palm and began to brew his own lambic so as not to depend on a waning industry. He now brews and blends some of the finest lambic products in the world. His products are sold in the pub/restaurant that they have in the front of the brewery. We were fortunate enough to have lunch there when we visited in 2001. We had a great lunch, tour and tasting as well as being able to buy some of his product.
This was Armand's first trip to the U.S. and only Tom Peters could get him to board a plane and fly to Philadelphia. He brought with him some fantastic stuff.
We started with his newest beer, a Beersel Lager to give people a choice other than the macrobrewed swill.
Next up was a 2005 Oude Gueuze which was nicely tart and full of flavor. They also served a 2001 Oude Gueuze which was not quite so tart as the '05, but tasty in its own right. A '98 OG was poured next which had lost a lot of its sourness, but still quite complex and delicious. This '98 started in new barrels when 3 Fonteinen was just getting started.
A Girardin Old Lambic from April 2005 appeared before us next and had quite a vinegary nose and was quite dry with only a light tartness.
Armand gave us quite a bit of info as we were getting to taste his wonderful creations. A very interesting person who is also President of H.O.R.A.L., an organization whose purpose it is to preserve the lambic tradition for generations to come. The European Union attempted to subvert the production of old lambic several years ago which would have been a grievous loss to the world(and me).
An Oude Kriek made with Polish cherries was an exceptional product that impressed the group. But then came the Schaerbeekse Kriek made with wild cherries and was a 100% 3 Fonteinen product. All the lambic was Armand's.
For a grand finale, he served a beer he brewed and blended in honor of his father, Gaston. Hommage was a raspberry lambic with cherries blended in. A very interesting and tasty finish to a wonderful afternoon.
I got a chance to talk to Armand after the event and hope that we can return to Beersel to visit again.
Check out his website for all the info about lambics.