Monk's Dinner
Brasserie Leyerth
3/9/08
This was the start of Philly Beer Week for us. We had attended Tom's Belgian Beer tasting earlier in the afternoon which we enjoyed immensely(see page on that event).
The other times that Hildegard and Bas Van Ostaden have been at Monk's we missed them. I was determined to attend this dinner. For those unfamiliar, Leyerth brews the Urthel line of beers at the Brewery Konigshoeven, the only Trappist brewery in the Netherlands. The Urthels are little people from the mind of Bas and the beers are from the creativity of Hildegard, one of the few female brewers in Belgium. Not only is she beautiful and smart, but she brews beer, too!!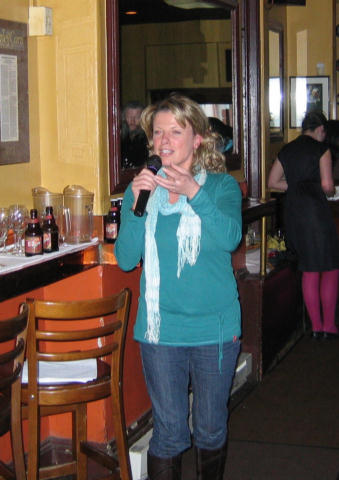 Lots of people were there and ready to get the party started. Larry Bell was in attendance and brought the first beer, his Two Hearted Ale on cask, a wonderfully hoppy brew that was accompanied by a Spring Roll of pork, enoki mushrooms and mung beans with a sweet lychee nut sauce. A great start!!
Next up was the Urthel Tripel, an excellent example of the style. The beer was used in the making of the beer and cheese soup that was served with it. Pumpernickel croutons floated leisurely in the bowl.
An homage to the hoppy American beers, Urthel Hop-It is one of the hoppiest beers you'll find coming out of Belgium. It has picked up a huge following here with its hybrid flavor profiles. Crawfish popcorn with shiracha remoulade sauce stood up to its pleasant bitterness.
Then the big guns made their appearance. The Urthel Bock is one of my favorites of their lineup and to be served with Lamb Bourgogne was an extra treat. Lamb is also high on my list.
The dessert was one which I had never tasted before. Sure, I've had lots of Apple Pie, but not with cheddar cheese and caramel sauce drizzled on top of it. I like all the ingredients separately, but together? Well, I was pleasantly surprised and really enjoyed the melding of all the different flavors. Of course, they saved the best beer for last also. The Samaranth is a Belgian Quad of 11+% abv that is warm and sweet. It was a perfect accompaniment for the pie.
Well, one day down, 8 more to go! Whew!