Stephen Beaumont's
Food & Beers of Michigan
Monk's Cafe
4/22/07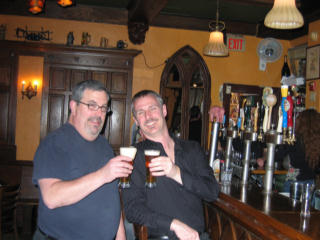 Well, we found ourselves at Monk's for the second time in 2 weeks. Stephen Beaumont was in town for other business so Tom figured he may as well have a dinner while he's there. Stephen always has an interesting slant to his theme-driven dinners and this was no exception. Though he's from Toronto, he finds Michigan a very underappreciated source of great food and beer. No lack of great pairings exist, but he felt an early dinner of just 4 courses would enhance the enjoyment.
The group was small but anxious to learn something from the master. He is always informative and likes to explain all the nuances of the pairings along with some digressive anecdotes.
The meal began with a Founder's Dry-Hopped Pale Ale, a beautifully balanced beer with a nice hop nose. What would not be usually considered an appetizer was served with it. A Detroit-style Coney Dog consisting of a venison sausage topped with smoked bison chili, was placed before us and we waited for the sound of "play ball" to begin. It would have been great by itself, but we still had 3 courses to go!!
New Holland Black Tulip Tripel was poured next and accompanied a very large piece of Baked Steelhead Trout caught wild in Northern Michigan. It is an exact ringer for salmon, but a little less fishy. Served with wild rice and spinach, it was very filling. The beer had a medicinal nose and was dry with just a hint of sweetness complementing the fish beautifully.
One of the best breweries coming out of Michigan in the last few years, Jolly Pumpkin has been brewing unusual beers for 3 years now. Stephen chose Oro de Calabaza to accompany a Michigan Cheese Plate....Black Star Farms Raclette & Zingerman's Lincoln Log. The Oro is a citrusy, tart beer with Brettanomyces and a hint of wood which cleansed the fatty cheese from the palate.
Of course, what Michigan meal would be complete without a beer from Bell's? This quirky brewery headed up by Larry Bell makes about a dozen stouts as well as other styles. His Cherry Stout was presented with, what else, but a Chocolate Cherry Tart!!! The roasted fruitiness of the stout was quite outstanding with the chocolate dessert.
As always, we enjoyed the commentary from Stephen and all the food from Monk's. Even with a not so hot topic like Michigan products, he makes it a great event. Keep an eye out for his next visit usually in the fall.
Keep up with Stephen's travels and thoughts at his website, www.worldofbeer.com and, when in Toronto, visit his co-owned restaurant, le bistro for some of the best food you'll ever eat and, of course, a great beer selection. Cheers!

HOME