Cantillon/De La Senne Dinner
Monk's Cafe
4/21/09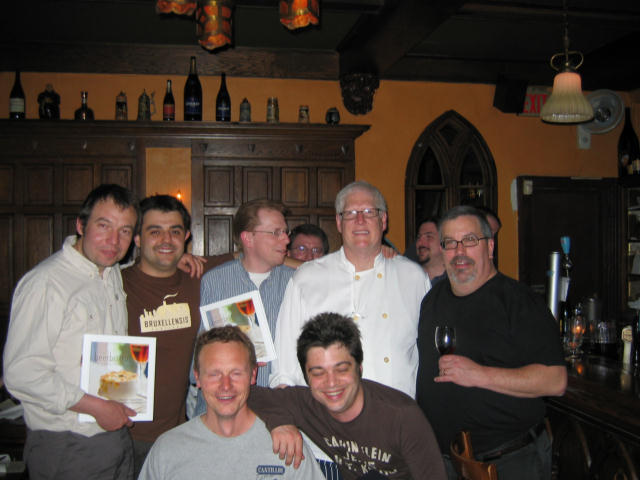 This was set to be one of the best dinners ever at Monk's and I was looking forward to it with immense anticipation! Brian Morin from Beerbistro in Toronto had returned to help Adam Glickman with this strategically difficult event. Tom closed the entire restaurant and that means lots of food has to exit from that kitchen in a very short period of time. Also, 9 courses did not make their predicament any better! Ever watch Dinner Impossible? I can only imagine this was close!
I love lambics and I was going to meet the guy who makes them....Jean Van Roy on his first trip to the US! Son ami de De La Senne brewery,Yvan de Baets, was to accompany him and once again serve his products to an anxious crowd at Monk's.
Cantillon Gueuze was the first beer served. A tart lambic is one of the best apertifs imaginable. It whets the appetite like no other libation.
To exacerbate the effect, a Scallop Ceviche with celery root, gueuze creme fraiche and fruit salsa was served with it.
To show how much love Tom Peters has for this Belgian style, on his many trips to Belgium each year, he stops at Cantillon and picks the kegs he wants to be shipped to Philadelphia for his Monk's Cuvee Gueuze. This wonderfully flavorful brew was served with Smoked Salmon and Scrambled Eggs. Never would have thought.......
Next, it was Yvan's turn to wow us with his Taras Boulba. This beer is an excellent Belgian Pale Ale with a spicy/tart flavor. With it we had Buffalo Frogs' Legs, celery and bleu cheese and leek dip. We hopped right on it!(sorry!)
Another La Senne beer followed, Equinox, a dark beer of 8%, served alongside our Steak Tartare, quail egg, toast, crisp onions and horseradish. What a breakfast that would make!
The Beerbistro Salad was a mix of greens, cucumbers, beets, fine beans and tomatoes dressed by a kriek lemon truffle vinaigrette. WOW! And Cantillon Kriek to wash it down!
A Belgian twist to an American classic was next. We all grew up with soup and sandwich but here we enjoyed a mussel bisque and a grilled cheese with cantillon sourdough bread and croque monsieur cheese. I'm not a big mussel fan, but the bisque was excellent and the sandwich exquisite! La Senne Saison accompanied this course and was an outstanding compliment to it.
For the main entree, we had Herb-stuffed Cornish Hen with asparagus, oven-roasted tomatoes and parmesan polenta. The Cantillon Vigneronne really set off this selection. The sweetness of the muscat grapes smooths the tartness of the lambic.
Another one of Cantillon's blends, St. Lamvinous, was used to help clean the palate with Quebec's Rose Blanche Cheese with walnut briosche and smoked honeycomb. Never had smoked honey before! It was very tasty.
For the piece de resistance, we had an Apple White Chocolate Crisp with brulee, almond and cream joined by one of my favorite beers Fou Foune, an apricot tart bomb! Love that beer!!!
Having a chance to speak to both Jean and Yves was a memorable experience. They were both thrilled with the reception they received in the US. Jean especially who makes beers that his own country hardly drinks anymore. He has found the popularity of lambics in the US very refreshing (sorry again!). Yves had had a dinner here in May '08 which we had attended where he released his Taras Boulba and Zinnebier. They had plans to travel to NYC the next day and then return to Phila.
Looking forward to Tom's next adventure!