Sam Adams Dinner
w/Jim Koch
Monk's Cafe
5/15/08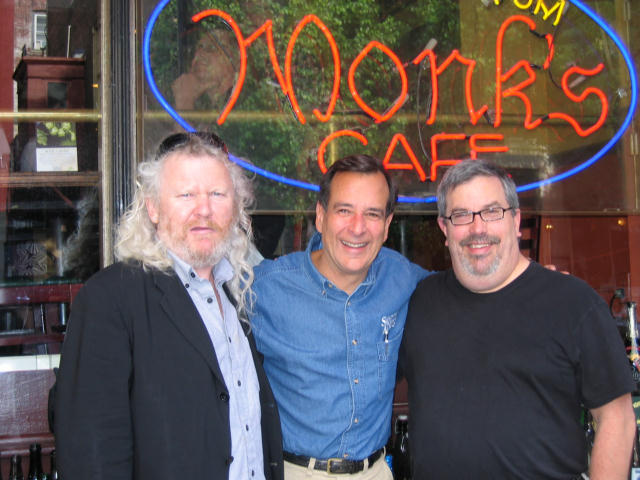 It had been quite a few years since I had been to an SA dinner. As a matter of fact, the first beer dinner I ever went to was a Sam Adams presentation at East Bay Crab & Grille in the mid-90's. However, I had never had the pleasure of meeting the brains behind the brewery, Jim Koch.
Because they have such a wide assortment of beers, I found that we were in for 7 courses of food and beers. It's usually difficult to get through Adam Glickman's 4-5 courses so I figured we're in for trouble.
Mr Koch was introduced and began to relate the history of the brewery and his philosophy of beer and business. Very thirsty work.....
First up was the SA Summer Ale, a nicely refreshing beer to get us started. It was served with a white pepper encrusted scallop w/lemon and cilantro burre blanc.
A Duck Sate with peanut sauce came out next and was accompanied by the SA Cherry Wheat, another refreshing and fruity brew.
In keeping with the wheat theme, the Hefe Weiss was poured next paired with a Lobster Slider w/corn chowder slaw. WOW! The slider was outstanding and the light taste of the hefe didn't interfere at all. The Hefe is the lightest selection Boston Beer makes and would not overwhelm even the most delicate of flavors. Sometimes light is good.
The flagship was served next and in its own glass! The special SA glass which was "scientifically" designed to accentuate the flavor and aroma of Boston Lager was set before us with a full measure of this deep copper liquid. We could not only enjoy the beer, but the glass was ours to take home also! An exquisite dish was also placed before us...Honey/Coffee Laquered Lamb Lollipop w/local fingerling potatoes and pattypan squash. Another home run here!!! The Lager just complemented this course excellently.
To wind things down, we got a cheese plate with an assortment of cheeses and peach chutney. The Honey Porter came with this course and cleansed the palate perfectly.
Then out came the big boys!!! The Double Bock malt monster accompanied a German-style Chocolate Cake w/cherry chocolate gelato. I think that the DB is my favorite SA beer. It's chocolatey, coffeeish and slightly sweet.
For the piece de resistance, what else could it be but the beer to end all beers, Utopias! This 27% elixir is more liquorish than beerish. Most people are surprised to hear that it is really a beer and not a distillate. The warmth and sweetness of the brew just melted the chocolates that came with it. Miel Patisserie supplied the 3 excellent candies....fleur de sel, tahitian vanilla and caramel.
I was happy to be able to talk briefly to Mr. Koch and get him to sign my menu. He is a very interesting speaker and an icon in the craft beer industry though he has taken a lot of heat for things he's done. One cannot dispute that he helped pave the way for many craft breweries on the East Coast. Thank you Jim!
We not only got a free glass, but he gave each of us a certificate for a free T-shirt as well! Of course, I ended up buying a second one while ordering the free one, so I'm sure they make out in the end. You can never have enough beer shirts!!