20th Anniversary Stoudt's Dinner
Monk's Restaurant
6/12/07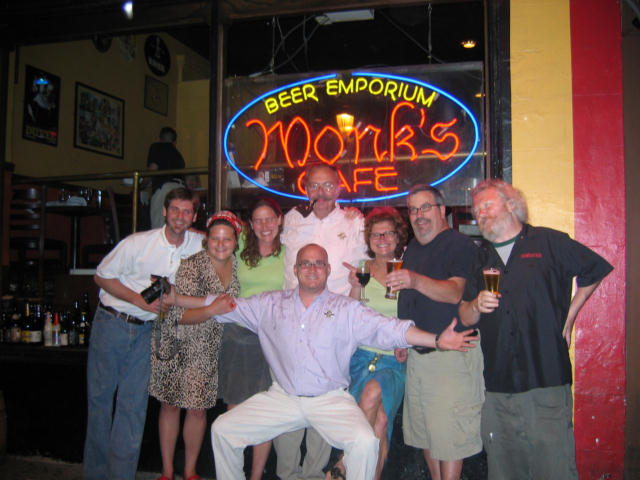 First, congratulations to the Stoudt family for leading the fight for good beer for the last 20 years and thank you making my passion possible in the East!
When Carol Stoudt started brewing so many years ago, she was one of the first women to own a craft brewery in the U.S. How soon we forget that the women were the backbone of the brewing industry for centuries! Brewsters were the ones who produced the ales for the households and perhaps a bit to sell to the neighborhood in Europe and the early years of America. Later, commercial breweries were to change the way we procured our libations.
Carol and her husband, Ed, started this small brewpub in Adamstown, PA to produce authentic German lagers and serve good food with their beers. The attached brewery also supplies beer to several states on the East Coast and has grown exponentially in the last couple of years. Look for their products at your local outlets.
Inclement weather delayed the arrival of the guests of honor, so we were served our first beer, the Pils, to keep us occupied and happy. Not my favorite style, this beer is wonderfully refreshing and so much different from the bland, fizzy yellow beers we were raised on.
After they arrived and proper introductions were made, Carol and Ed spoke about the early years briefly so we could dig into the first course, grilled asparagus, sauerkraut and asian tuna roll.
Next up was their Weizen accompanied by a chilled melon soup which proved to be an outstanding pairing. This German wheat beer had great banana, clove and citrus notes. It is made with Weihenstefan yeast.
The next beer, a Honey Double Maibock, is a blonde version of the popular beer released in the spring and kicked up with honey for extra fermentables. It is sweet and alcohol warm and paired wonderfully with the chicken terrine.
A year aged Tripel was poured for the next course and was slightly dry with a touch of fruity sweetness in the finish. The monkfish braised with tomatoes, fennel and vidalia onion was excellent.
Veal Cheek Carbonnade with fresh morel mushrooms and fiddlehead ferns came out and was just enough not to stuff us so full we didn't have room for dessert. One of their newest beers, Smooth Hoperator, was poured with this selection and complemented it perfectly. The Hoperator was a hybrid style that evolved from the desire to make a traditional doppelbock, but "kicked up a notch" American style with a load of lupulin bitterness and aroma.
A dessert we've had several times at Monk's, but never tire of is the Chocolate coffee mousse! To finish off a fantastic meal, this was accompanied by a cask-conditioned Fat Dog Stout, an excellent imperial stout at 9% with lots of smooth chocolate-coffee flavors with the right hint of sweetness.
A visit to the brewpub/brewery in Adamstown is a must. A great occasion for that is one of their Invitational Microbrew festivals in June, August and October. You get to enjoy their beers as well as almost 100 others from local breweries and a taste of their great German cuisine as well. Other events are held year round and can be found at their website.
For those whose spouses don't care for the beer scene, Adamstown is the Antiques Capital of the world and the Stoudts have a large complex right on the brewery property where antiques and other collectibles can be found. Check it out.
Be sure to take a look at their website for lists of events and new products.