12% Imports Dinner
Monk's Cafe
6/9/09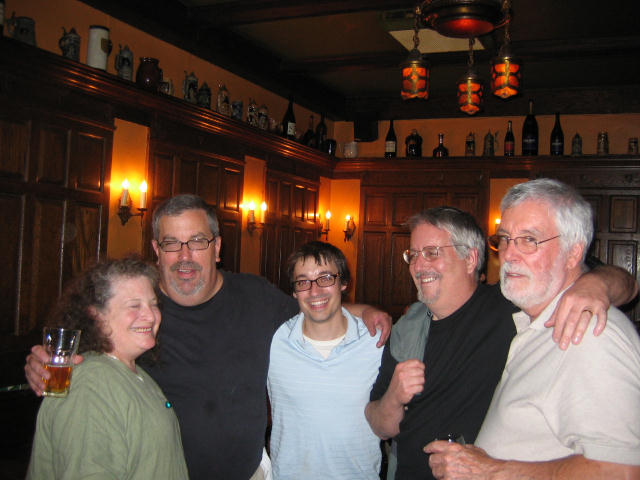 I knew from the start that this dinner was going to be special as I had never tasted any of the beers being served. As a matter of fact, we were advised by the importer that 2 of the beers were never before tasted in the U.S. Tom Peters kept this event small and in the back room. All the best of the Philly beer writers were there: Lew Bryson and his wife, Cathy, Jack Curtin, Don Russell, and Carolyn Smagalski. Brian Ewing is the owner of 12% Imports and decided to bring in some of the smaller breweries that he had run across on his many trips to Belgium. His narratives were full of information about these rare beers. Most of his clients make only a couple of hundred Hl a year!
For the first time, the menu for the meal had been posted on Monk's site so we knew what to expect foodwise. The beers were the mysteries here!
We started out with Netebuk from Brouwerij 't Brouwkot, a light and fruity brew of 6.5% abv. It was served alongside the mushroom risotto which was excellent.
Next up was a Blonde from the Brasserie Le Botteresse. This is a small backyard brewery in Wallonia and run by Jose who is a chemist and a part-time brewer. He usually uses spice in his creations, but not in this one, though a flavor of eucalyptus presents itself in the nose and palate. Paired up with an Arugula and Mache Salad with a cheese custard and asparagus, the beer held its own and was quite refreshing.
The next course was a very original one: a mussel falafel on pita bread with Cazeau tsatziki. What is Cazeau you ask? Well it was the 7% blonde beer that we drank with it from the Brasserie de Cazeau, a farmhouse brewery in Hainaut province. It had been around for 200 years, but had closed for 40 years until about 5 years ago when it was reopened. They have 4 beers in their repertoire.
Valier Extra from Brouwerij Contreras from East Flanders was one of the beers tasted for the first time in the U.S. It had a honeysuckle floral nose to it and a very smooth taste with a hint of bitterness and a dry finish. The abv was 6.5%. The brewery is the largest of 12%'s stable and they make about 3000Hl per year. The new brewer decided to ramp up the styles that were made before his appearance and they now produce a Blonde, a Dubbel, a Tripel and the Extra. I decided to be adventurous and actually eat the escargot with walnuts and Valier butter sauce. Got past it! My wife, however, did not.
Up next was our favorite of the evening in both food and beer. The rack of lamb was excellent with local carrots and roasted bliss potatoes. Monk's makes the best lamb anywhere! Eewaarde Pater(Reverend Father) was from the Brouwerij Het Alternatief. A beautiful red color and flavor of dried cherries and oak made up this 9% malt bomb. Made from 7 malts and no extra sugars, it is aged in plain oak barrels. A pairing made in heaven!!
You always look forward to dessert at these dinners! Tom presented us with a Cappuccino Creme Caramel which was smooth and elegant and full of coffee flavors. The beer that accompanied it, was also one that was served in the States for the 1st time. Brouwerij de Dochtor Van De Karenaar(Daughter of the Karenaar) is another artisanal brewery in Flanders. We got to taste his Embrasse made from 8 malts with a small % of smoked malt. An excellent end to an excellent evening.
The beers will have a very limited distribution in the States, but you know that Monk's will have some of it! Keep an eye out for it there. Gezondheit!