10th Annual State College Microbrewers' Expo
State College, PA
7/28/07

For the 9th year in a row, we made the trip out to Happy Valley to attend and help out at the 10th Anniversary of this renowned beer fest. We have attended all but the first year's event. I still don't remember how we became fast friends with the producers, Greg Somers and Michael Goldfine, but we did and have had a great time viewing the fest from the working side of the table. It is even a hectic weekend for us and we have only limited responsibilities. I can only imagine what Greg goes through himself now that Michael has left the fold to be able to enjoy the festival. But, Greg has more energy than any two people I know, so I know he kind of thrives on the excitement.
This festival is all about beer education and the seminars are there to teach about the many facets that are beer. This year, the main speaker was John Hansell, publisher and editor of Malt Advocate magazine. Though mostly covering the world of whisky, beer is also prominently featured in this periodical. John talked about blending beers and used some of the best beers in the world to make his point. He started out sampling 6 beers and then discussed blending. Several of the beers were blends themselves or would lend themselves to being a mixer: Hanssen's Gueuze, Schneider Aventinus, DFH's Red & White, Goose Island's Brown Goose, Avery/Russian River's Collaboration Not Litigation, Port Brewing's Veritas, and finishing with Unibroue's Quelque Chose. Lemon juice was provided to mix with the Quelque Chose in order to demonstrate it's blending ability. He urged everyone to try blending at home to enhance the experience of beer drinking.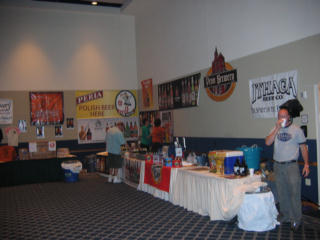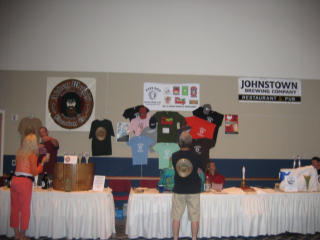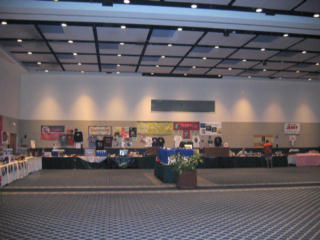 Michael Goldfine made his first appearance at the podium to discuss 6 beers that you must taste before you die: Pilsener Urquell, Fuller's Porter, Hoegaarden, Paulaner Hefeweizen, Ayinger Celebrator and Westmalle Tripel. I can't argue with a single one of those! I don't know how he got it down to just 6!!
Also for the first time, The Beer Geeks, Mark Dellinger and Jeff Metzler, took the crowd to The Strange Brew Zone. The first beer they discussed was Kvass, a Russian Rye Bread beer recently recreated by Scott Smith of East End Brewing with the able assistance of Tom Baker, late of Heavyweight Brewing. Next up was a new Grottenbier(cave beer) from the famous Pierre Celis. It is a Flemish Ale made with spices. Lastly they offered up 2 takes on Berliner Weiss (personally one of my favorite styles): DFH Festina Peche and Scarabaeus Getranke 1809.
As always, there was a Beer 101 seminar giving the basics to the beer newbies in the group. I conducted 2 of them and my friend, Nate did the other 2. They are a good time to pass on my passion for beer.
The crowds were record-breaking this year. The first session was close to selling out and the second one sold out the last few tickets in the AM. But the crowds were well-behaved and there was a minimum of problems other than long lines at the tables.
For sustenance, the buffet has always been great. Slow-Roasted Ginger Soy Pork Loin with Mushroom Bordelaise, Grilled Bratwurst with Caramelized Onions, Asiago Cheese Tortellini w/ Summer Vegetables and Pesto, Sweet Potato and Spinach Soup w/ Andouille Sausage, Mediterranean Salad w/ Artichoke Hearts, Olives, Shaved Parmesan Cheese & White Balsamic Vinaigrette, Chilled Sesame Lo Mein Salad, Tex-Mex Coleslaw, Artisan-Baked Breads & Rolls w/ Assorted Cheeses, Fresh Fruit & Sliced Fruit w/ Fruited Yogurt, Black Forest Brownies, Penn State Cookies, Carrot Cake, Iced Tea and Coffee. If you leave there hungry, shame on you!
Many of the usual suspects showed up to pour their products: Unibroue, East End, Sly Fox, Weyerbacher, Victory, Legacy, Dogfish Head, Troegs, Magic Hat, Stawski, Anchor, Southampton, Erie, Otto's, Penn, High Falls, Stoudts, Abbey Wright as well as loads of imports from local and national distributors. Mr & Mrs Jerky were there once again and Zeno's and Full Force sold T-shirts. An added treat this year was Don Cisso Cafe where they came and demonstrated the art of rolling cigars!! They brought along lots of cigars to sell.
I hope that this fest keeps on going for a long time, but it gets tougher every year to secure the venue and get breweries to attend. Demands are made on so many fronts for the time and beer of the brewers and they certainly can't attend every festival. I hope all those who attend this fest will let the brewers know how much you appreciate their attendance and support their products whenever possible. For those local to State College, Zeno's, Otto's, The Deli, Champs, all have great beers on tap and in bottle for your enjoyment.
Keep an eye on the website for future events. Cheers!