The Inaugural Delaware Barleywine Expo
April 22, 2006
Stewart's Brewing Co.
Bear, DE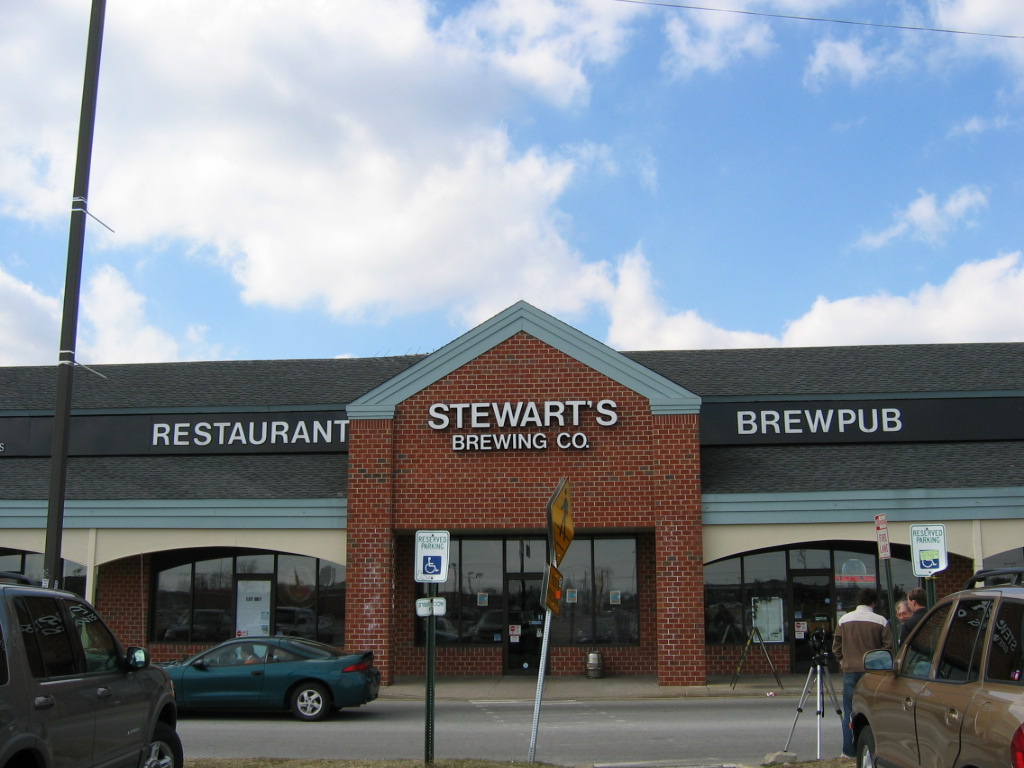 Boy, what a miserable day for traveling such a long distance, I thought to myself ! The trip from Somers Point, NJ to Bear, DE is about 100+ miles and the forecast called for torrential rains all day. But the thoughts of missing Ric and John's first barleywine fest was just too disturbing. This brewpub in the Governor's Square Shopping Center on Rt. 40 seems to always fall under the beer radar. They loom in the large shadow of Dogfish Head and Sam Calagione who is now synonomous with the State of Delaware beer business. But with their 3 bbl Peter Austin system, they pump out some great beers! (Not all beers made with Ringwood.)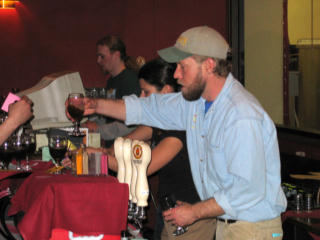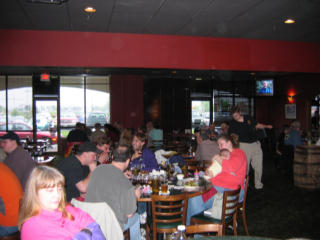 Ric Hoffman, the brewer, and his dedicated crew: John Fiorilli, the assistant brewer, and Eric, the helper, and not to leave out Ric's beautiful wife, Natalie, all got together to bring to this underrated venue, a Barleywine Expo. A niche market at best even for a larger city, they thought they would give it a whirl. As the day approached, the aforementioned weather forecast gave them a bit of a fright....would anyone make the trip? I myself had no doubt that it would be a success.
We left early to include a side trip to State Line Liquor less than 20 miles from Stewart's. Their selection of beers is fantastic and worth the trip.....but I digress.
The Expo was to begin at 4:22PM on 4/22, but we arrived around 2:45 and we settled in at the bar and had some lunch and a couple of house beers. The crew was running around making the preparations for the big moment which was to be held in their auxiliary dining area.
People started to dribble in as the deadline approached. Finally, the magic hour arrived and we all made our way into the special room. The set up looked organized and ready for whatever came their way, but with 11 barleywines to pour and everyone wanting the sampler, Ric and the others found themselves a bit overwhelmed to start. Glasses started to become scarce and, of course, recycling was a slow effort as noone was gulping down these monsters, but it all worked out and service was excellent considering the task at hand.
Here is a list of the beers they served:
1. Stewart's 2002
2. Stewart's 2003
3. Stewart's 2005
4. Stewart's 2003 Bourbon Barrel(Jim Beam)
5. Stewart's 2005 Bourbon(Jim Beam)
6. Flying Fish Big Fish
7. Victory Old Horizontal
8. Anchor Old Foghorn
9. Iron Hill Golden Hoppy Barleywine
10. Rogue Old Crustacean
11. Dogfish Head Olde School(bottle)
What a lineup!!! Not a loser in the bunch! A full flight of 2.5 oz pours was only $15 and more than enough to keep you busy for a while until you picked your favorites for another 2.5 or 5 oz portion for $1.50 or $3.00 respectively.
Not only did they have these great libations, but they also made some special food choices to complement them. Imported and Domestic Funky Cheese Plate including English Stilton, Maytag Bleu, Cyprus Grove Goat Cheddar, Irish Porter Cheddar and Sharp Swiss Gruyere served with bourbon barleywine mustard and Beer-Braised Bourbon Barleywine BBQ Hog Wild Pork Wings served with tater tots and cole slaw were the specials in addition to their regular menu. A list of special desserts were also included: Kentucky Derby Pie, bourbon pecan pie w/chocolate sauce and whipped cream, Bread Pudding w/ Knob Creek hard sauce, Chocolate Decadence, a flourless chocolate cake, and Cappuccino Crunch Stout Ice Cream made locally with Stewart's Highlander Stout. My friend Bill had the Pork Wings and said they were utterly unbelievable. All I could force down was a piece of the pecan pie. I know if we stayed any later, there was a Bread pudding with my name on it!
Most of the people were locals though there was a group from Northern Virginia who weathered the storm to make the trip.
I have a feeling that, if he does one next year, they will be lining people up out the door. The first year of a small event like this is not always a priority to beer geeks, especially when the weather is bad and traveling is involved. Word of mouth will do a lot and everyone will want to come next year.
Of course, one should visit Stewart's during the year also. It is easy to find, has plenty of parking and serves a complete line of good beers and food. It is alo in the heart of the shopping district for the wife and family to enjoy while you have a few beers and watch the game.
Check out their website for further info.