Tun Tavern Hawaiian Luau
8/27/05
For a change of pace, the folks at Tun Tavern Restaurant & Brewery in Atlantic City decided to make this Brewmaster's Dinner a Hawaiian Buffet and we were glad they did! It ranked right up there with some of the best beer dinners I've ever been to. The best part was that the service was on you. If you did not get your food and drink in a timely manner, you had noone to blame but yourself!
For your $40 plus tax and gratuity, you received a wrist band allowing you to mosey up to the bar and drink all the beer you wished and traverse the buffet line as many times as your belt would allow you.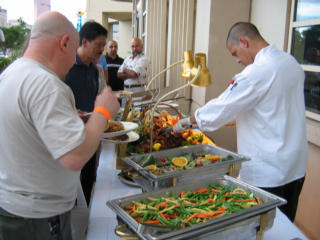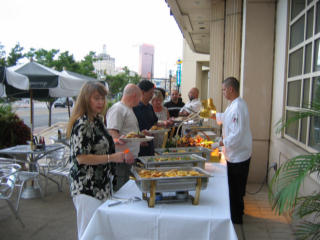 The buffet line was set up on their outdoor deck overlooking the AC Skyline. The weather was perfect. A nice breeze kept away the gnats and the humidity. Rain surrounded the city, but came nowhere near our location as we enjoyed the sumptuous repast.
The menu was exceptional: a traditional roasted pig was hand-carved by a chef for you, orange-pineapple chicken with ginger soy glaze and mahi-mahi wrapped in banana leaves with pina colada blanc rounded out the entree choices. Side dishes were Hawaiian slaw and potato salad, pineapple rice pilaf, sunshine string beans w/toasted coonut almondine, and hearts of palm salad w/ Caribbean mango vinaigrette. Last but not least, coconut & orange bread pudding w/ maple glaze finished you off for dessert. The chef, John Hoover, and his staff really outdid themselves!
My wife and I met up with our friend, Tony, at the event which was a surprise. Ted Briggs, the brewmaster, and his wife, Laura, accompanied by her mother, provided us with some entertaining stories during the meal.
Of course, the highlight was Ted's beers! I started out with his Summer Weiss, a nice light wheat beer easy on the palate and very refreshing. His IPA is our favorite and Tony and I drank up a good bit of that with the meal. He had just put on his Pullers Pride Pils, an excellent example of the style, though I'm not a big Pils fan. We finished it off with his Leatherneck Stout.
We headed home stuffed and happy looking forward to their next event.
Check out their website to sign up for the e-mail newsletter and keep up with all the happenings.