Tun Tavern's Oktoberfest Dinner
10/13/06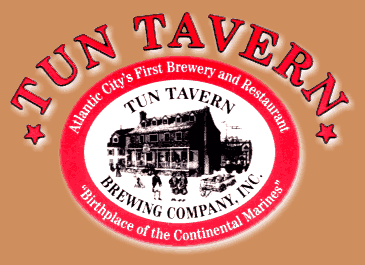 Well, I was lucky enough to shift my schedule and attend this elegant affair at my local brewpub. even with all the other friday the firkinteenth events happening all over the area, it was not a hard decision to make. the menu looked outstanding and ted brigg's beers are excellent.
The dinner began with a selection of cheeses and fresh breads accompanied by his Tunfest Lager to whet the appetite. The lager is a tasty example of the style with plenty of malt and a quiet hop finish. The cheeses were limburger, Bauer Butterkase, Cambozola, and Emmentaler.
Next up was a braised pork shank in vegetable ragout. The plate that was set before us contained a humungous piece of pork and we all knew we were in dire jeopardy of not being able to make it through the meal. The chef said there was a lot of bone, but, I can tell you, there was also a lot of meat on that bone! We drank some more of the Lager.
still a long way to go, the waitstaff took their time between courses so that we could digest some of the food.
the Soup was an easy one....potato and leek infused with the freedom ale barleywine.....rich and creamy and was the least filling of the courses and accompanied by the All American IPA.
i thought that the salad would be another simple task until i saw it. a mound of radicchio and endive mixed with lardoons(bacon) covered with german vinaigrette. we immediately asked for takeout trays and loaded up the salad for home consumption. we did, however, consume the beer....devil dog pale ale.
our choices for entree were: roast duckling with orange glaze and rosemary sweet potatoes, bowl of wursts and braised cabbage & fennel or smoked Black Angus sirloin with spaghetti squash. we figured the sirloin would be easier to carry home and that was a good move! it had been smoked for 3 hours and the aroma emanating from this large slab of beef made your mouth water, well, it would have if we weren't so stuffed to begin with. one look at it and you were full! i picked at it and resigned it to the take out tray also. once again, i did drink the nut brown ale that accompanied it!
There's always room for dessert!!! A Bienenstich(beesting) cake was the grand finale. I think they scaled back the size of our portions for this course as they knew it would be wasted. of course, the piece de resistance was the beer that was offered with it, the freedom ale barleywine....the best beer ted makes all year. aged in jack daniels oak barrels for over 6 months, it is an 11.5%abv malt bomb with oak and vanilla notes and a warmth befitting its abv. seeing as I wasn't driving, i had 2 glasses of that.
as a special treat, i brought my lone bottle of the 2002 vintage of this beer. it was the first year he made it and he hand-bottled a few for his friends and good customers. he said that some did not age well, but we were pleasantly surprised when we opened the bottle to find a wonderfully dry and well-aged brew.
the newly promoted chef, rocco pellerito, really showed his culinary skills at this presentation and I expect we'll see a lot more of him in the future.
Get on ted's mailing list for future events by visiting www.tuntavern.com.
support your locals!!