Victory Opening
5/7/08
Well, they finally did something that falls on my day off, so I made plans to attend the opening of the newly-renovated Victory Brewpub in Downingtown, PA. And was I glad I did!
Accompanied by my friend, Kevin Kelly, we made the 2 hour drive and arrived a full 5 minutes prior to opening. It was a beautifully warm and sunny day that made the trip that much better.
The new decor is spectacular! The wide open space is still there, but there is much better use of the expanded area. Where the long bar was is now lined with comfortable booths and the dining room is still there though much larger. The use of warm, dark woods and contrasting light floors gives this venue a stunning appearance. There are several nuances that remain from the old space that still give it that old feel....the opaque windows that lined the rear wall and brought in natural light to the space and the high open ceilings that pay homage to its industrial beginnings.
The bar is what will floor you! Another long bar but with the dark woods and lines of glasses and growlers filling the shelves. Rows and rows of taps greet the patron with a selection that most brewpubs would give anything for! 21 taps in all and 4 handpumps to boot! I understand from Uncle Jack that there will be 15 of these taps populated on a regular basis. This day, all 21 were pouring!
The covering of the bar is most unique. They bought copper tops of large mash tuns, cut them and draped the bar with the halves. There is also another one off to the side surrounded by a curtain that Mr. Ruch told me is a special brewer's section for them to enjoy after work.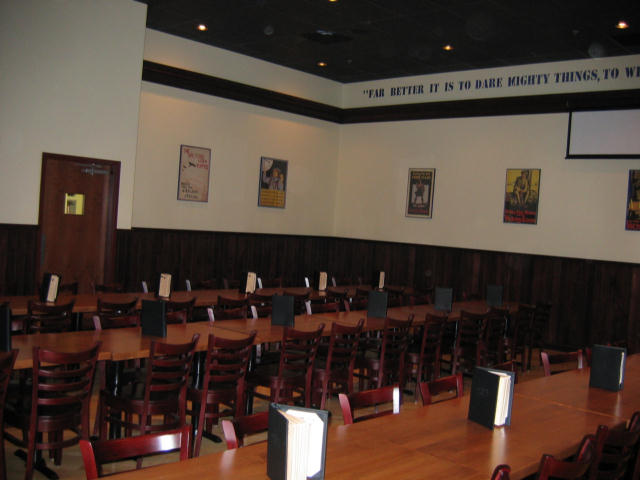 They've also made accomodations for a German-style Bier Hall that will allow you to have a private party or special event.
New hours also prevail. They will be open Mon-Fri 11:30AM-Midnight, Sat. 10AM-Midnight and Sun. 10AM-10PM. Brunch is now served Sat & Sun 10AM-1PM.
Victory still sells their swag and takeout beer as before and they've added new technology to the task of growler-filling. An automatic filler!!! This little bit of technology saves both time and beer. It was not functioning the day we were there, but Mr. Curtin put his first fill on his blogsite and assures us that it works beautifully. All they have to do is insert the growler and turn the switch for the selection. It doesn't get any better than this!
This is more of a must-visit now. With lots more space, beers and time, there is no excuse not to make the trip. Even at $4 a gallon gas, it's worth the trip.
Check out their website for lots of info on selections, etc.