General Lafayette's Winterfest
2/17/07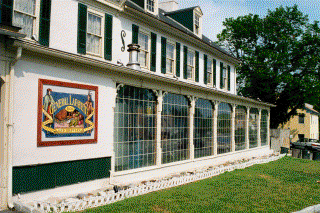 The first beer festival held at General Lafayette took place on this day to rave reviews. The 350 tickets sold were in demand by those who procrastinated and did not purchase them immediately. Personally, I was surprised that they lasted as long as they did. I got tickets 3 & 4 so you know I called early! The wait and see attitude many people took did not pay off!
Owner/brewer Chris Leonard and family have learned their lessons from years on the festival circuit and this event seemed to go off without too much ado. The overall experience was outstanding as everything seemed to be well-planned.
If you've never been to GL, it is certainly not the largest venue one could hold a fest in, but the ticket limit made for a comfortable number. Strategic water and food stations allowed the attendees to stay hydrated and nourished. The food was plentiful, varied and well-prepared: beef chuck, pork tenderloin, scallops wrapped in bacon, mac & cheese, grilled veggies, jambalaya, and an assortment of finger foods rounded out what I saw.
The food was only to be outdone by the beers available to this thirsty throng. Lots of local breweries brought out their big winter brews for all to enjoy:
Stewarts-'05 Bourbon McBride and Conundrum
Sly Fox-Ichor and Odyssey
Yards-Chateau Kenso '07 and Thomas Jefferson Ale
Weyerbacher-Double Simcoe IPA, Quad and Blithering Idiot
Rock Bottom-Barleywine and Sub Zero IPA
Nodding Head-Wee Heavy and Kung Fu Grip
Legacy-Euphoria and Raspberry Fantasy
Appalachian-Barleywine
Iron Hill-Russian Imperial Stout and Hopzilla
Manayunk-Tripel Lindy and Barleywine
Brooklyn-Smoked Weissbock, Local 1, Monster, and Black Chocolate Stout
Flying Fish-Dubbel and Bourbon Barrel Dubbel
McKenzie's-Shipwreck India Red Ale and Cherry Stout
Victory-Hop Devil and Golden Monkey
Troegs-Mad Elf, Troegenator and Nugget Nectar
Gen. Lafayette-Chocolate Thunder and High Alt-titude
To avoid the driving problems that go along with a big-beer fest such as this, special rates at several local hotels were set up as well as shuttles to and from those locations. It worked out well for us and we even got checked in prior to the festival.
There was a small after party at the restaurant and we were invited to stay. That was probably a mistake as I drank lots of Ric Hoffman's barrel-aged Stumbling Monk and left a little more "impaired" than I usually do. Thank God we didn't have to drive!
I didn't hear any bad reviews of the festival. I'm sure the hosts were happy with the outcome and they already have an Anniversary party planned for September 1st. I made my reservations already...did you? Give them a call and get your tickets now.
For those not familiar with General Lafayette Inn, besides a first class dining experience and lots of great in-house brewed beers, they have an excellent bed and breakfast just a short walk from the Inn with some very comfortable rooms. We've stayed there and it makes for a very nice time. Take the driving worries out of your visit!
Check out their website for descriptions of the rooms and hours of operation for the restaurant. This is a must-see when in the area.