Winter brew fest
high street grill
1/31/09

High Street Grill sponsored its first annual Winter Brew Festival in conjunction with the annual Fire and Ice Fest held in downtown Mt. Holly. Here they have a chili cookoff, ice carving contest, fire engine rides, lumberjack skills contest and lots of other family-fun events. This was the McDevitt's first attempt at a festival at their small location. The city-wide event allowed them to take advantage of the blocked street and erect a small tent to house the tasting.
They did not try to hit a home run at their first time at bat so they kept it small with only 12 breweries pouring. They also kept the sessions to only an hour long with 3 of them between 1 and 4:30PM. Each session was priced at $20 and had very limited tickets available. Although not totally sold out, a good crowd attended each session.
The weather was extremely cold-d-d-d! Highs in the 20's and a good breeze blowing. The small tent kept the wind out, but the lack of heat still made the cold noticeable especially after the sun disappeared behind the buildings. Of course, all the big beers kept the blood warm and the crowd's body heat helped to insulate those in the middle. In between each session, everyone renewed themselves inside the even smaller High Street Grill. Great beers were on tap there as a well as a cask of Hop Back Amber. Lew opted for a fine Islay scotch to return feeling to his toes.
Some of the breweries that attended were Sly Fox, Troegs, Clipper City, River Horse, Founders, Capt. Lawrence, Lagunitas, Stone, Victory, Stoudt's, Smuttynose and Flying Dog. Many had reps attending like the lovely Suzanne Woods for Sly Fox, Christian of River Horse, Nick from Troegs, Lee from Stone(formerly Legacy) and Lew Bryson and myself were there selling our "NJ Breweries" book.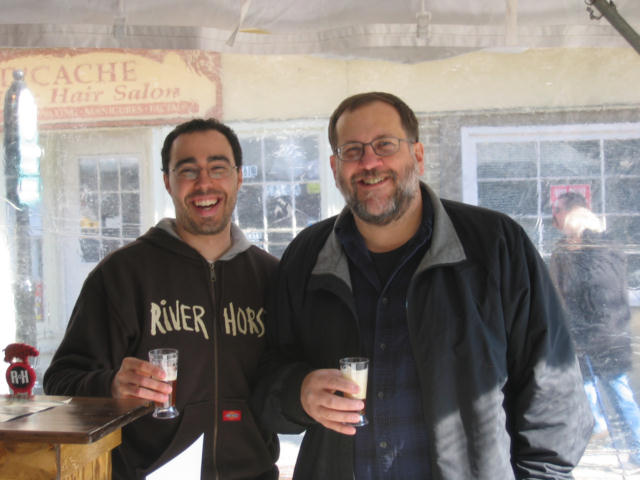 It seemed that everyone had a good time and I'm sure they'll try to do this every year. Watch for it on their website and make your plans early as the attendance is very limited.