World Beer Fest
Durham , NC
10/7/06

This year, as we were not going to Denver, we decided to once again make the trip South to the World Beer Fest. This is certainly not the craft brewing hub of the nation. Until 2005, you couldn't even sell beer greater than 6% as beer. The "Pop the Cap" initiative gave brewers license to make popular styles like doppelbocks, barleywines, old ales, etc and allowed distributors to bring in the great beers of Belgium and Germany.
Oddly enough, the Raleigh/Durham area has lost many of its breweries and brewpubs, while many other areas of the Carolinas have flourished. Instead, they've increased marketing of out of state beers many of which are not available in the Northeast!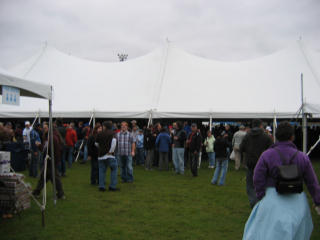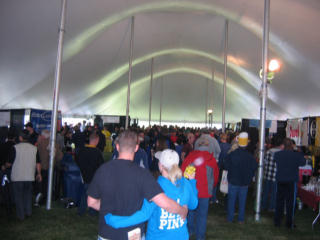 We attended this festival in 2003 and it has more than doubled in size since then. Even in the land of NASCAR, good beer has caught on. The list of attending breweries and distributors was definitely impressive: Mash House, Sweetwater, Moon River, Natty Greene's, Charleston, Asheville, Azalea Coast, Green Man, Red Oak, Carolina, Thomas Creek, St George's, Edenton, Highland, King and some out-of-towners, Victory, Dogfish Head, Weyerbacher, Avery, Fort Collins, Kuhnhenn, Lakefront, Clipper City, Otter Creek, Anderson Valley, etc.
Having the fest outside under tents is chancy, but the rain held off and the sun barely peeked through keeping it temperate. A perfect festival day!!! The lines were long and both sessions sold out. We attended the 12-4 show and enjoyed it thoroughly. I'm sure the 6-10 event is crazy!!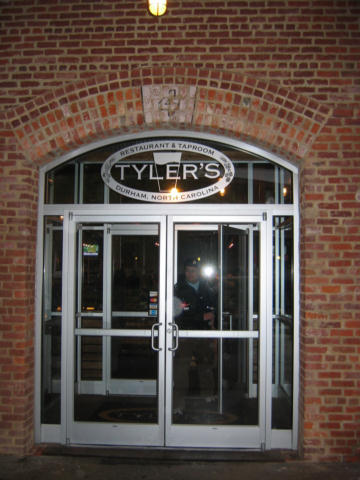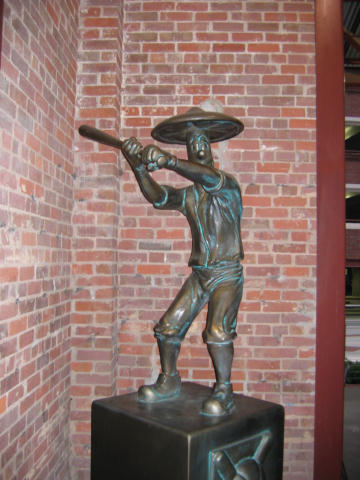 There are only about 2 places in town to go for good beer while visiting. Mellow Mushroom is a pizza chain that serves a limited menu of good bottles though their pizza is quite good. Tyler's Tap Room is more like a beer haven in the midst of an oasis. They have a wonderful beer bar in the back of the building and an outstanding restaurant up front. The tap selection was excellent and the cuisine phenomenal. While we were there, who walks in but Ed and Carol Stoudt!! They were attending a kick-off party for the Fest and looking for a distributor in the area to enter the NC market.
I would recommend this fest to anyone who would like to taste the best the South has to offer all in one place. They now have added a spring festival in Raleigh to give people a chance to enjoy the area twice a year.
Check out www.allaboutbeer.com for info about the fests and lots of other beer-related facts.